Servizio Stampa

Parlamento europeo

Ufficio di collegamento in Italia
Settimana 23-29 settembre 2019




Attività delle commissioni a Bruxelles

Mario Draghi: Lunedì, il presidente della Banca Centrale europea Mario Draghi incontrerà per l'ultima volta la commissione Problemi economici e monetari per discutere della posizione della BCE sulle questioni legate alle politiche monetarie dell'area Euro. Sempre lunedì Draghi presiederà per l'ultima volta il meeting dello European Systemic Risk Board (ESRB).

Summit Onu sul clima:

Da lunedì a mercoledì, gli eurodeputati delle commissioni Ambiente e Sviluppo parteciperanno al summit Onu sul clima e sugli obiettivi per lo sviluppo sostenibile. Due le direttrici principali: da un lato presentare un piano plausibile per la riduzione dei gas serra del 45% e arrivare a emissioni nette 0 entro il 2050, e dall'altro accelerare verso l'attuazione, entro il 2030, degli obiettivi per lo sviluppo sostenibile (SDG).

Elezioni europee/Eurobarometro

Martedì il Parlamento europeo pubblicherà i risultati completi di un eurobarometro realizzato dopo le elezioni. Si tratta di uno dei sondaggi quantitativi più esaustivi pubblicati a oggi sull'ultima tornata elettorale europea.

Giornata del multilinguismo:

Il Parlamento europeo terrà sabato 26 settembre la terza edizione della giornata dedicata al multilinguismo. Una serie di eventi organizzati sia in Parlamento che alla Casa della Storia europea metteranno in luce la diversità linguistica dell'UE e mostreranno il grande lavoro svolto da interpreti e traduttori.

Agenda del presidente:

Lunedì il presidente del Parlamento europeo, David Sassoli, incontrerà il presidente della BCE Mario Draghi. Sassoli vedrà anche dodici rabbini provenienti da dodici Stati europei e il presidente della Camera austriaca Wolfgang Sobotka. Martedì, il presidente incontrerà il mediatore europeo Emilie O'Reilly. Mercoledì Sassoli parteciperà alla plenaria del Cese e incontrerà il presidente della SIAE Mogol. Giovedì incontrerà il Primo ministro croato Andrej Plenkovic. Martedì, mercoledì e giovedì il presidente Sassoli incontrerà diversi commissari designati.

Giovedì, alle ore 11, nella sala Anna Politkowskaya, il servizio stampa del Parlamento europeo terrà un briefing tecnico off the record sullo svolgimento delle audizioni dei commissari europei che sarà possibile seguire anche in streaming.

Se non si visualizza correttamente questa e-mail cliccare qui
Israele dopo voto, difesa nel governo Conte 2, protezione stile vita europeo, Premio IAI
Le elezioni anticipate in Israele confermano il testa-a-testa fra il premier Benjamin Netanyahu - che punta a un quinto storico mandato - e l'ex capo delle Forze Armate Benny Gantz, finito poco avanti. Mancando una chiara maggioranza, un opzione è un governo di unità nazionale, ma il partito di Gantz chiede la testa del leader del Likud.
Tra poco più di una settimana, intanto, le commissioni competenti del Parlamento europeo cominceranno le audizioni per testare i commissari europei designati da Ursula von der Leyen: Margaritis Schinas, candidato greco alla vice-presidenza, con delega alla 'Protezione dello stile di vita europeo', sarà sulla gratricola, dopo che il titolo del suo portafoglio ha polarizzato il dibattito politico.
Mentre in Italia il governo Conte bis è atteso da importanti decisioni sul fronte delle politiche della difesa, al Pentagono crescono le preoccupazioni per l'impatto dei cambiamenti climatici sulle installazioni militari.
ARTICOLI
PREMIO IAI
Democrazia in Europa: il mercato della verità online
La rivoluzione digitale ha soddisfatto il bisogno di immediatezza della società democratica, che mal tollera l'incertezza nel processo decisionale, ma ha compresso eccessivamente i tempi di riflessione critica sull'informazione, distorcendo la distinzione tra vero e falso.
ULTIME DAL BLOG
IN EVIDENZA
SEGNALAZIONE


Premio IAI: l'evento conclusivo il 24 settembre


L'Istituto Affari Internazionali organizza – martedì 24 settembre a Roma – l'evento di premiazione del Premio IAI "Giovani talenti per l'Italia, l'Europa e il mondo". I saggi dei finalisti della seconda edizione sul tema "Democrazia in Europa: fine corsa o nuovo inizio?" saranno...

NEWSLETTER DEL 20 SETTEMBRE 2019
L'Unione Stampa Periodica Italiana ha organizzato il Convegno dal titolo "Una nuova strategia per il rilancio del settore dell'editoria"...(continua a leggere)
---
---
---
Segnaliamo inoltre:
- Il femminicidio e l'uso corrente di parole "sbagliate"
- Regione Toscana, firmato protocollo per l'accesso a Palazzo di giustizia anche di fotoreporter e telegiornalisti
- Citynews: chiuso in utile il 2018 con i ricavi saliti del 37%
---
Servizio di Rassegna Stampa relativo al mondo dell'editoria e della comunicazione presente nell'area riservata ai Soci del sito - clicca per restare sempre aggiornato
www.uspi.it uspi@uspi.it uspi@pec.uspi.it
tel. 06.4071388 - 06.4065941 (anche fax)

n. 75
Il Fondo Alpi alla Fondazione Murialdi
Una conferenza stampa per illustrare il conferimento, da parte del Comitato dei garanti dell'Archivio 'Ilaria Alpi' alla FNSI e da questa alla Fondazione Murialdi, ha avuto luogo giovedì 19 nella sede della Fondazione. Nell'occasione la Federazione nazionale della Stampa italiana, la Fondazione Murialdi e il Comitato dei garanti dell'archivio 'Ilaria Alpi' hanno sottoscritto il protocollo per la conservazione e valorizzazione dell'archivio. Erano presenti il segretario generale e il presidente della FNSI, Raffaele Lorusso e Giuseppe Giulietti, il presidente della Fondazione, Vittorio Roidi e fra gli altri, il segretario dell'Usigrai, Vittorio Di Trapani, la direttrice del Tg3, Giuseppina Paterniti, l'onorevole Mariangela Gritta Grainer, l'avvocato Giulio Vasaturo, il direttore di Rai News, Antonio Di Bella, il consigliere di amministrazione della Rai, Riccardo Laganà, il portavoce della Sezione Italiana di Amnesty International, Riccardo Noury, il segretario del Consiglio Nazionale dell'Ordine dei Giornalisti, Guido D'Ubaldo. La professoressa Margherita Martelli, dell'Archivio di Stato, ha illustrato la fase di avanzamento dei lavori di schedatura dell''Archivio Alpi'.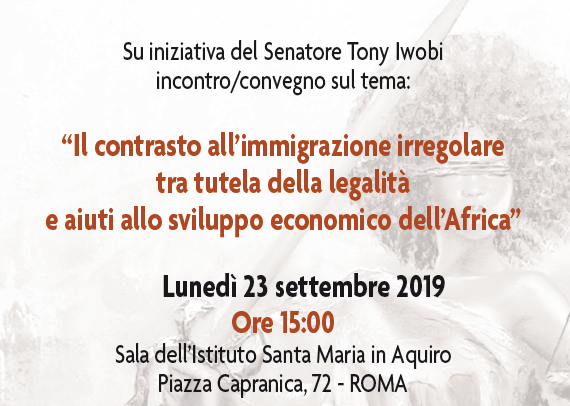 [ ... ]

ANCHE IL MOVI PARTECIPA ALL'APPELLO #IOACCOLGO



Il 24 settembre ci sarà una conferenza stampa di presentazione pubblica l'appello lanciato dalla campagna #IOACCOLGO (http://ioaccolgo.it) per il per l'abrogazione dei cosiddetti decreti Sicurezza e Sicurezza bis e l'annullamento degli accordi con la Libia (allegato).


Ci auguriamo che venga accolto per consentirci di ritornare un paese civile: capita di sbagliare ma è importante sapersi correggere.

Fedele ai suoi principi e valori ricordati nell'appello che a sua volta ha lanciato recentemente il MoVI aderisce all'iniziativa.



[ ... ]

LIFE Programme

Newsletter
Highlight
25% more proposals for new climate projects
We have received 166 new proposals in reply to the 2019 call for LIFE climate action projects. That is 25% more compared to last year – showing the growing efforts across the EU and beyond to tackle climate change.
News
Getting ready for climate change
Check out our new brochure "Ready, steady, green! LIFE helps farming and forestry adapt to climate change" and learn about the various LIFE climate actions.
Sharing innovations and practices to restore farmland
Intensive farming is a major driver of biodiversity loss, also in Europe. That's why LIFE programme beneficiaries came together to share innovations and best practices around nature restoration on intensified farmland.
Call for organisations to host European Solidarity Corps volunteers
How about offering young people the opportunity to look behind the scenes of your LIFE project? Don't miss the chance to host European Solidarity Corps volunteers. Find out now if your organisation is eligible.
EU citizens' attitudes towards climate change
93% of EU citizens see climate change as a serious problem, according to a recent Eurobarometer survey by the European Commission. Find out what else Europeans think about climate change.
Events
27/09/2019

Europe's understudied species
IUCN and Bruxelles Environnement will share the latest results of the LIFE European Red Lists project on Europe's understudied species at a conference in Brussels. Register now!
05/11/2019 - 08/11/2019

The European Commission at Ecomondo 2019: EU Programmes for your circular ideas
Once again, the European Commission will take part in Ecomondo, the annual trade fair for the green and circular economy. Learn about LIFE projects in our sessions and at our stand.
Project news
Teaching birds how to arrive at their wintering grounds
A man and 29 birds, on a flight over the Alps to teach Northern Bald Ibis their long-forgotten migration path. Read the amazing story of the LIFE project "Reason for Hope Waldrapp", which is working to reintroduce this endangered species in Europe.
Tackling football's environmental impact
As the new football season kicks off around Europe, one LIFE project is looking to a new goal: To make football matches and stadiums more environmentally friendly.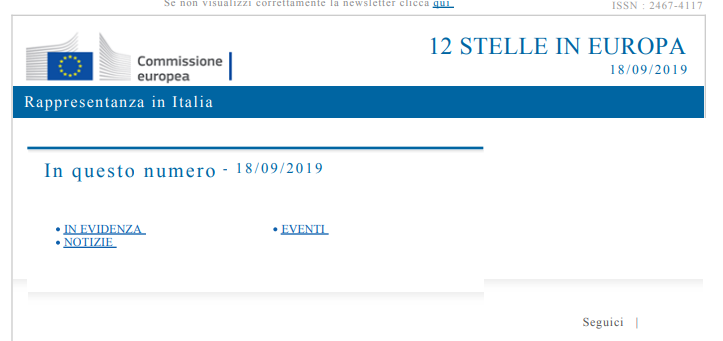 [ ... ]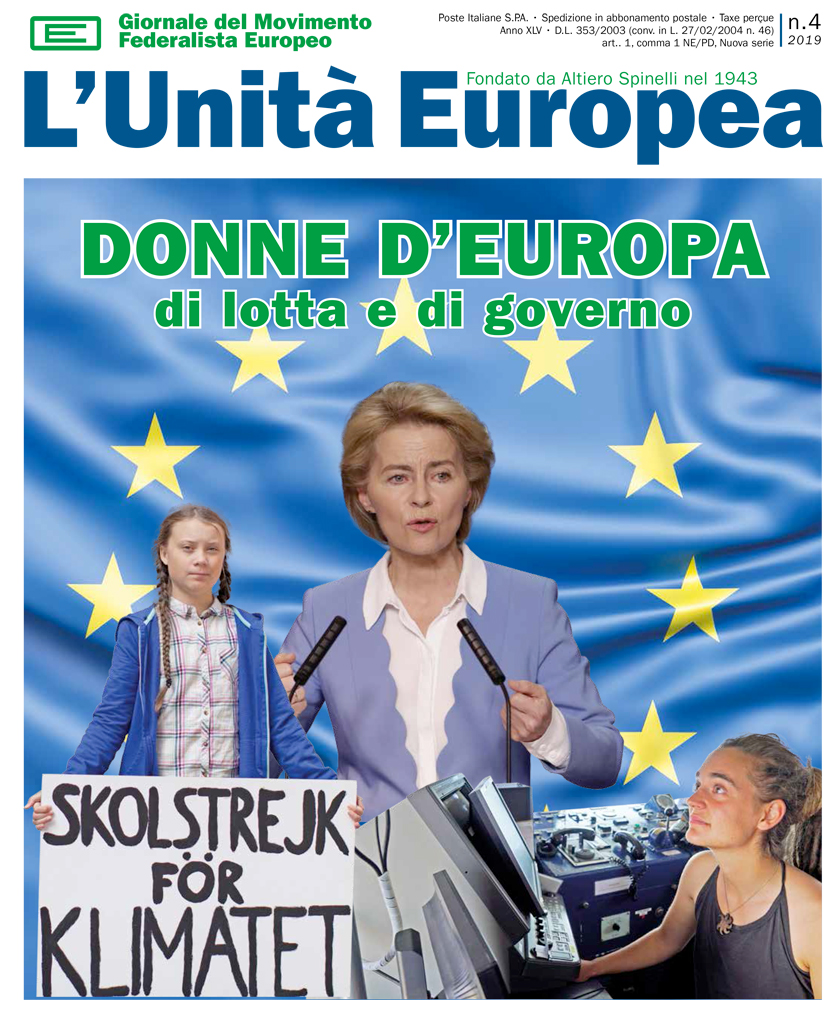 [ ...]

| | |
| --- | --- |
| | DERNIÈRES INFOS |

Se non si visualizza correttamente questa e-mail cliccare qui
Elezioni in Israele, Emmanuel Macron a Roma, economia italiana, attacco al petrolio saudita, Usa2020, premio IAI
Per la seconda volta in meno di sei mesi, Israele torna oggi alle urne per risolvere il rebus governabilità: il premier Benjamin Netanyahu - che ha ormai superato per longevità al potere il padre della patria David Ben Gurion e ora tenta di spostare l'agenda ulteriormente a destra promettendo nuove annessioni - spera in un quinto mandato, ma è testa a testa con i centristi di Blu-Bianco dell'ex capo di Stato maggiore Benny Gantz. L'ago della bilancia potrebbe essere il laico nazionalista Avigdor Lieberman, che punta al governo di unità nazionale ma senza il capo del Likud. Intanto, il recente attacco rivendicato dai ribelli yemeniti contro due importanti installazioni petrolifere dell'Arabia Saudita rappresenta un ulteriore salto di pericolosità nel confronto regionale imperniato sulla contrapposizione Usa-Iran.
Dopo il giuramento di viceministri e sottosegretari, il premier Giuseppe Conte si prepara ad accogliere, domani, il presidente francese Emmanuel Macron a Roma: una visita che segna il disgelo in atto con l'Eliseo, dopo 14 mesi di incomprensioni e tensioni con Parigi. E mentre Matteo Renzi annuncia l'abbandono del Pd e la nascita di un suo nuovo partito che conferma il sostegno alla risicata maggioranza, l'esecutivo giallo-rosso ha il cambio di passo sull'economia fra le principali sfide.
ARTICOLI
ULTIME DAL BLOG
IN EVIDENZA
SEGNALAZIONE


Premio IAI: l'evento conclusivo il 24 settembre


L'Istituto Affari Internazionali organizza – martedì 24 settembre a Roma – l'evento di premiazione del Premio IAI "Giovani talenti per l'Italia, l'Europa e il mondo". I saggi dei finalisti della seconda edizione sul tema "Democrazia in Europa: fine corsa o nuovo inizio?" saranno...

| | |
| --- | --- |
| | DERNIÈRES INFOS |

***Correction: In yesterday's edition of The Capitals, we wrote that Commission vice-presidents were questioned in 2014 by the leaders of the political groups in the European Parliament (the Conference of Presidents). In fact, they were questioned by the Presidents of the Parliament's 20 parliamentary committees.
Spain's acting socialist PM Pedro Sánchez asked all political parties on Monday to "take their responsibility", help break the current political deadlock and avoid new elections, EURACTIV's partner EFE reports. King Felipe VI has begun a round of consultations with all key political parties to determine if there is a candidate for PM with enough support to form an executive.
Sanchez's socialist PSOE won the 28 April elections, but without the majority required to govern alone.
In a last-minute move, the centrist Ciudadanos (Citizens) on Monday offered to abstain, facilitating Sánchez's investiture with conditions: among them, tax reductions and a compromise not to pardon the 12 Catalan separatists being tried for the unlawful October 2017 independence referendum, in case they are found guilty, next October, EFE reported.
In addition, the abstention of the conservatives of Partido Popular (PP), the main opposition party, would be required to facilitate Sánchez's investiture. Over the weekend some voices within the PP pledged to offer a "grand coalition" to PSOE, and avoid new elections, but this is not the official position of the party, PP sources said.
If no agreement is reached between PSOE and leftist Unidas Podemos before the end of the week, new elections will be called for 10 November. On Monday Sánchez asked Podemos's leader Pablo Iglesias not to reject the formation of a "progressive government" for a third time.
PSOE wants a "single colour" executive with the parliamentary support from UP. Iglesias, however, has repeatedly insisted on a coalition government with the socialists.
(Fernando Heller, EuroEFE.EURACTIV.es)
But at the EU level, sources from the S&D Group in the European Parliament told EURACTIV.com in Strasbourg that socialist EU lawmakers from the Nordic countries are disturbed by the stance of the party's new leader Iratxe García Pérez, who comes from Sánchez's PSOE party.
The critics suggest that the socialist government in Madrid "dictates" Pérez' and the EU socialists' line. "Our party line is officially being directed by Madrid […] no consultations take place in the party anymore," the sources said, adding that following the EU elections, the EU socialists are split into two camps: Northerners and Southerners.
The same sources said that the party group was divided over the upcoming Commissioner hearings, citing the case of Romanian socialist Rovana Plumb, who was nominated as European Commissioner for Transport, and Hungarian László Trócsányi (EPP) who got the enlargement portfolio.
Rumours in Strasbourg suggest that the leaders of the EPP and socialists have made a deal not to attack each others' Commissioners and run a smooth process, something that Macron's EU party, Renew Europe, will not like.
EURACTIV's Frédéric Simon wrote in The Brief that both are among the "exposed" candidates ahead of the hearings of the 26 Commissioners-designate.
In 2017, Plumb "escaped" investigation in a corruption case linked to jailed former PSD leader Liviu Dragnea, after lawmakers turned down a request made by the anti-corruption prosecutors. She then thanked them for defending "the principles of the rule of law".
Orban's Trócsányi, a former justice minister, has been accused of undermining rule of law standards in Hungary. "How can this person point the finger to the countries that wish to join the EU when it comes to the rule of law", a socialist source said.
EURACTIV has also learnt that some socialists from Nordic countries are ready to sacrifice their Romanian colleague in order to nix Trócsányi's nomination "no matter what Sánchez will say".
(Sarantis Michalopoulos, EURACTIV.com)
Delivering a Sustainable European Post 2019-2024
Delivery is part of the postal DNA and Europeans count on postal operators to deliver physical mail and parcels. The
manifesto of the European Postal industry
sets out PostEurop priorities and goals for the next five years.
BUCHAREST
No-confidence vote delays. The opposition parties may decide against filing a motion of non-confidence against the socialist government this week. The leaders of PNL (EPP) and USR (Renew Europe) said they are expecting confirmation from ALDE and Pro Romania. However, the leader of Pro Romania, ex-PM Victor Ponta, said he was expecting to see if Prime Minister Viorica Dancila would ask the parliament to vote for a restructuring of the government. "If she does not come on Wednesday… we'll have no other option… but to support the no-confidence motion that I hope our colleagues from PNL and USR will file," Ponta said.
The socialist party PSD does not hold a parliamentary majority after its junior partner ALDE left the governing coalition in August. However, ALDE has lost some of its MPs to PSD, as some party members decided to join the government, against the official position of the party. (EURACTIV.ro)
///
PARIS
Is Snowden welcome in France? LREM MEP Nathalie Loiseau and justice minister Nicole Belloubet have said they are in favour of welcoming the US whistleblower Edward Snowden to France. "He did humanity a favour", Loiseau said.
Snowden, an NSA employee who revealed how the USA was spying the Internet and communications worldwide, unsuccessfully applied for asylum in France in 2013. He now hopes that Macron will give it to him. Ofpra agency, and not the Elysée, officially deals with the asylum system. But sensitive files may somehow find their way.
EURACTIV France reports that the US-France relations are already damaged, and so welcoming a whistleblower would not cause much further harm.
"The saddest about this whole thing is that the only place where an American whistleblower can talk is not in Europe but here in Russia," Snowden said in an interview with France Inter on Monday. Loiseau is leading the defence sub-committee in the European Parliament, which will scrutinise the new European Commission's plans to overhaul the bloc's defence policy. (EURACTIV.FR)
///
BERLIN
Greek-German understanding. At a meeting with his Greek counterpart Nikos Dendias in Berlin on Monday (16 September), German Foreign Minister Heiko Maas assured Greece of support with regard to migration. More refugees coming from Turkey recently arrived in Greece – despite the 2016 pact with Ankara that provides for the return of all migrants who illegally entered the Greek islands via Turkey. (Claire Stam,EURACTIV.de)
///
ROME
Renzi's new start. Yesterday evening, Italy's PM Giuseppe Conte received a phone call from Matteo Renzi, announcing his departure from the centre-left Democratic Party (PD). Renzi has assured that the new centrist movement he intends to set up in the next few days will support Conte's new government.
Among those who will join Renzi's new party are the ministers for agriculture Teresa Bellanova, and for family Elena Bonetti, as well as two junior ministers Anna Ascani and Ivan Scalfarotto. Renzi can also count on the support of around 15 lawmakers in the lower House and roughly 5 in the Senate. (Gerardo Fortuna, EURACTIV.com)
///
ATHENS
IMF early repayment. On Monday Greece officially asked the Eurogroup and ESM for permission to repay early expensive IMF loans of its bailout program. Finance Minister Christos Staikouras mapped a repayment scheme for €2.9 billion given to Greece by IMF with 5.13% interest, and of total loans amounting to €8.8 billion. The remaining amount carried an interest rate lower than 3%. (Theodore Karaoulanis, EURACTIV.gr)
>Read more on EURACTIV's partner Athens-Macedonian News Agency
///
BRATISLAVA
Be like Singapore. In an emailed interview, EU Commission Vice-President Maroš Šefčovič confirmed that strategic foresight is part of his next portfolio (inter-institutional relations and foresight). "Part of the assigned portfolio resides in embracing the trends, which will define the resilience of Europe and its success," Šefčovič wrote.
He praised Singapore as being no 1. in strategic foresight and Europe should not lag behind. "I would like for all of us – the Commission, the Parliament and the member states – to agree on strategic priorities within the so-called multiannual programming. Among the new trendsetters like Singapore, this is very much a matter of course". (Zuzana Gabrižová, EURACTIV.sk)
///
PRAGUE
The conditions to accept budget cuts. The Czech Republic can accept the planned 2021-2027 EU budget cutbacks to cohesion and agriculture funding under one condition: It wants to have more control in deciding how to use the subsidies, State Secretary for European Affairs Milena Hrdinková has told the Czech News Agency.
The Czech Republic will be one of the most affected countries by the proposed cuts. In 2021-2027, it is expected to receive around €3.8 billion less than 2014-2020. (Aneta Zachová, EURACTIV.cz)
///
WARSAW
Budget scenarios. Poland could lose up to €13 billion from the EU's new long-term budget compared to the draft proposal of the European Commission presented last year, Polish newspaper Rzeczpospolita reports. It could be even worse, as the new Commission will put aside more money for the Green Deal, which is likely to save on agriculture and cohesion policy, French Minister for European Affairs, Amelie de Montchalin, said. However, despite the anticipated loss, Poland can expect to benefit from the newly created Just Transformation Fund. (Alexandra Brzozowski, EURACTIV.com)
///
ZAGREB
Why Croatia tolerates Italian and Hungarian provocations? Croatian authorities' reaction to the pro-fascist provocations in Rijeka last week have been tepid.
"It had to be answered faster and more fiercely because Italy, like Hungary, is a long-standing hegemon in the Croatian territories. We have to be friends with both countries, but there is a limit that must not be crossed, such as this kind of events. However, our government will completely silence them, but they will fixate on Serbia as if all evil comes from there", Ivica Maštruko, Croatia's first ambassador in Italy told jutarnji.hr.
Professor Dejan Jović recently described Croatia-Serbia relations as a "frozen conflict", adding that the normalisation of relations does not suit the political elites in either country. (Željko Trkanjec,EURACTIV.hr)
///
BELGRADE
Ageing farming population. In Serbia, farmers are predominantly aged 65 or older (42.5%) while just 8.7% of farmers are between 35-44 year-old. The Serbian Statistical Office has also said that the average surface area of a plot of land owned by a farmstead is 12.7 hectares. (beta.rs,EURACTIV.rs)
///
SARAJEVO
New EU Delegation chief, one more Austrian. Austrian diplomat Johann Sattler takes over as chief of Delegation of the EU to Bosnia and Herzegovina on Monday. From 2008 to 2013, he was the publishing director for WAZ Media Group and Axel Springer in Moscow. (Željko Trkanjec,EURACTIV.hr)
***
[Edited by Sarantis Michalopoulos, Ben Fox]


Notizie del mese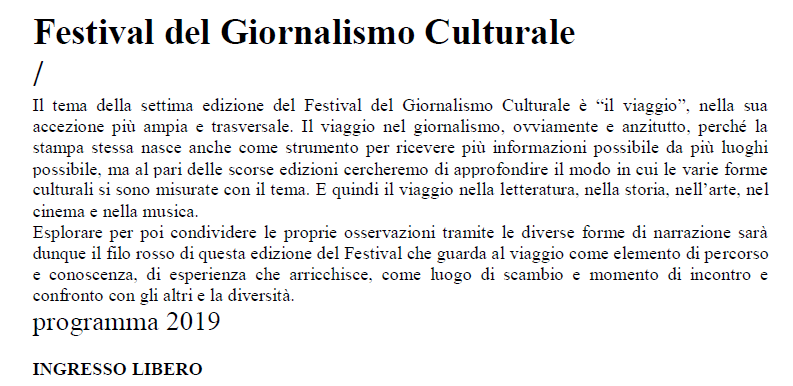 [ ... ]

n.72
Informazione tra riforma e controriforma, 16 settembre ore 10 convegno in Fondazione Murialdi
'L'informazione tra riforma e controriforma', 16 settembre convegno in Fondazione Murialdi
Lunedì 16 settembre, alle 10, si svolgerà nella sede della Fondazione sul giornalismo 'Paolo Murialdi' (via Augusto Valenziani 10/a-11, Roma) un convegno sul tema 'L'informazione tra riforma e controriforma' dedicato a Murialdi nel centenario della sua nascita.
Il convegno, moderato da Vittorio Roidi, presidente della Fondazione, si baserà su due relazioni introduttive: quella di Vittorio Emiliani dal titolo 'Paolo Murialdi dalla resistenza al giornalismo alla presidenza della Federazione della Stampa' e quella di Nicola Tranfaglia su 'Il contributo di Murialdi alla storia del giornalismo'.
Seguiranno le testimonianze, i contributi e gli interventi, fra gli altri, di: Franco Abruzzo, Alfredo Barberis, Luciano Ceschia, Alberto Ferrigolo, Raffaele Fiengo, Ombretta Freschi, Giuseppe Giulietti, Beppe Lopez, Raffaele Lorusso, Bernardo Valli, Carlo Verna.
In occasione del convegno, la Fondazione ha pubblicato un volume, a cura del direttore della Fnsi, Giancarlo Tartaglia, che raccoglie gli interventi di Paolo Murialdi negli anni, dal 1974 al 1981, in cui è stato presidente della Federazione nazionale della Stampa Italiana.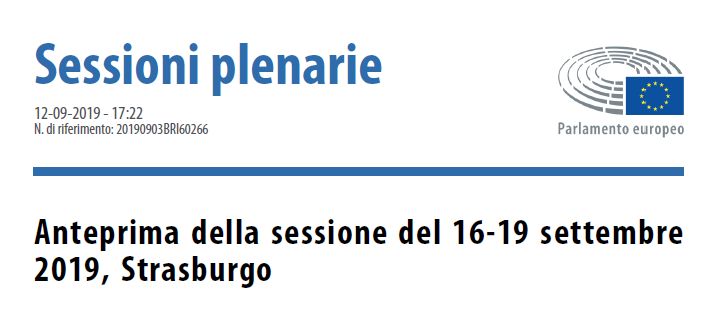 [ ... ]

| | |
| --- | --- |
| | DERNIÈRES INFOS |

NEWSLETTER DEL 13 SETTEMBRE 2019
Tutela garantita anche ai piccoli e medi editori di giornali cartacei e online di informazione...(continua a leggere)
---
---
---
Segnaliamo inoltre:
- Classifica Comscore dell'informazione online luglio 2019: Citynews, Fanpage e TgCom24 sempre sul podio
- Bonus Pubblicità: via agli sgravi per chi investe in pubblicità
---
Servizio di Rassegna Stampa relativo al mondo dell'editoria e della comunicazione presente nell'area riservata ai Soci del sito - clicca per restare sempre aggiornato
www.uspi.it uspi@uspi.it uspi@pec.uspi.it
tel. 06.4071388 - 06.4065941 (anche fax)
Problemi con la visualizzazione di questa newsletter? clicca su notiziario.uspi.it

Se non si visualizza correttamente questa e-mail cliccare qui
Commissione UvdL, intervista a Frattini, Israele al voto, Trump congeda Bolton, Usa2020, premio IAI
13 donne e 14 uomini per Ursula von der Leyen: la Commissione europea appena presentata dalla presidente tedesca - che ha poi portato la sua squadra in ritiro - è la prima a mettere a segno la parità di genere. Ma la ripartizione delle competenze solleva qualche dubbio. Per la prima volta l'Italia ottiene il commissario agli Affari economici: a sorvegliare sull'operato di Paolo Gentiloni ci sarà però il rigorista lettone Valdis Dombrovskis. "L'ex premier dovrà farsi sentire direttamente da Merkel e Macron", suggerisce Franco Frattini, già commissario europeo e oggi presidente della Sioi.
Israele, intanto, si prepara a tornare alle urne martedì prossimo - dopo il nulla di fatto in seguito alle elezioni di aprile -: lo scenario più probabile resta quello di un governo di coalizione nazionale fra Likud, Blu-Bianco e Israel Beytenu che tagli fuori partiti religiosi e di sinistra. E nei giorni in cui gli Stati Uniti si stringono nel ricordo del 18esimo anniversario dell'11 Settembre e i dieci big democratici che aspirano alla candidatura alle presidenziali 2020 si sfidano sullo stesso palco, Donald Trump - propenso com'è ai repentini cambi di staff – congeda uno dei suoi consiglieri più ascoltati in politica estera, il falco John Bolton.
ARTICOLI
ULTIME DAL BLOG
IN EVIDENZA
SEGNALAZIONE


Premio IAI: ricordando Antonio Megalizzi


L'Istituto Affari Internazionali e la famiglia Megalizzi, con la partecipazione di RadUni/Europhonica, hanno istituito – nell'ambito del Premio IAI "Giovani talenti per l'Italia, l'Europa e il mondo" – un riconoscimento speciale per la comunicazione intitolato a Antonio Megalizzi, il giornalista italiano ucciso nell'attentato di...

We're in the money! Bulgarian PM Boyko Borissov has revealed his tactics over the top jobs negotiations, which will open the door to his compatriot Kristalina Georgieva becoming the next International Monetary Fund (IMF) chief. After other candidates withdrew, Georgieva is the sole candidate to be the fund's next managing director, virtually guaranteeing that she will succeed Christine Lagarde in the job in early October.
Borissov was criticised by the opposition for having missed out on the EU's foreign affairs chief portfolio for Georgieva at the June summit, when leaders nominated Ursula von der Leyen as Commission chief and picked Spain's Josep Borrell to replace Mogherini.
The opposition insists that Mariya Gabriel's portfolio (EU Commissioner for Innovation and Youth) is too modest compared to Bulgaria's previous record (Georgieva was in charge of the EU budget).
Borissov said he kept silent at the summit, because his goal was to make sure that Georgieva gets the IMF gig, at a time when, in his words, she was facing competitors from the Netherlands, Germany and the UK.
At that time, Georgieva was in competition with Dutchman Jeroen Dijsselbloem, the UK's George Osborne, Finland's Olli Rehn and Spain's Nadia Calvino.
Borissov revealed that his finance minister, Vladislav Goranov, had been in charge of the lobbying. He explained that Bulgaria won after "the US, Russia, China, the Arab countries and Africa" stood behind Bulgaria, and "only India was left".
In his typical style, Borissov justified his tactics with money involved. "When we had to choose, the post of EU foreign affairs chief could be ours. But the difference with the IMF chief is one thousand billion dollars and the possibility of action in the whole world", he said.
Various reports suggest that Georgieva got the top job because French President Emmanuel Macron went into bat for her. In the post World War II order, the IMF chief always comes from Europe, while the US gets to pick the head of the World Bank. (Georgi Gotev, EURACTIV.com)
Actions to fight climate change. Only 10% of respondents in Bulgaria (in the last place in the EU) believe that climate change is the single most serious problem the world is facing today, according to Eurobarometer. 32% say they have personally taken action to fight climate change in the past six months. Only in Romania are there fewer people (29%) who have personally taken action in this regard. (EURACTIV'S partner Dnevnik.bg)
Vision
We live in digital times and European political leadership in the technology space is more needed than ever. Global peers are already driving significant changes in our societies and economies through technologies developed outside the EU. Read more on our
vision
to co-create a new policy agenda for Europe's tech leadership.
MADRID
Socialists lead latest poll. Since tough negotiations between the socialist party (PSOE) and the leftists of Unidas Podemos seem to have no agreement in sight, results of a survey published on Thursday show that the socialists would win if a new election were held, EURACTIV's partner EFE reports.
According to the poll, the socialists would get 29.7%, followed by the conservative Partido Popular (PP) with 11.6%. The survey was carried out between 17 June and 16 July, before the failed investiture of acting socialist PM Pedro Sánchez.
Meanwhile, acting vice-president of the government, Carmen Calvo, on Thursday insisted there is still time to reach an agreement between the two parties but insisted Sánchez needs clear backing from Unidas Podemos before trying to form a government.
The PSOE has rejected forming a coalition with Unidas Podemos and is only offering a "programmatic agreement", ahead of a 23 September deadline. (Fernando Heller /EuroEFE.EURACTIV.es)
///
WARSAW
Teacher strike? Just ahead of national elections, Polish schools might be hit by a wave of strikes as the Polish Teachers' Union says it is coping with overloaded teaching plans, a shortage of key teachers in schools and bad infrastructure. Experts, however, expect that if trade unions decide to stop work in schools, they will mobilise conservative PiS voters even more, who are mostly against the strike. (Alexandra Brzozowski, EURACTIV.com)
CO2 reductions? In 2018, Poland increased the amount of its CO2 emissions by 7 mln tonnes. This stands in a sharp contrast to Germany which cut 37 mln tonnes compared to 2017. Also in per capita ranking, Poland fares badly, as in 2018, it emitted 188kg CO2 per head, which is more than China (144kg) or even India (121kg) (Łukasz Gadzała,EURACTIV.pl)
///
BERLIN
China angry at Germany. Foreign minister Heiko Maas (SPD) pushed back against Beijing's criticism for meddling in its domestic affairs, following a meeting with Hong Kong's democracy activist Joshua Wong in Berlin on Monday. Maas said on Thursday (12 September) that he would continue to meet with human rights lawyers and activists. Wong told newspaper Die Zeit: "I don't believe that a brief conversation with the foreign minister is proof of interference."
Beijing views the meeting as "disrespect" towards China's sovereignty and interference in its internal affairs. Beijing also summoned the German ambassador. (Claire Stam, EURACTIV.de)
///
LONDON
Backstop stays, says EP chief. There will be no Brexit deal without an Irish backstop, European Parliament President David Sassoli said on Thursday. However, the EU is willing to revive a proposal that would keep only Northern Ireland in the bloc's orbit to maintain a seamless border to Ireland, and was open to giving the UK another extension, he said. Read more
///
ROME
Salvini who? The European Commission last night received a request to coordinate the sharing of migrants on board the Ocean Viking NGO rescue ship, a spokesman said on Thursday, ANSA reported.
He said a number of countries have already said they will take some of the migrants, once they have come off the ship operated by SOS Mediterranée and Doctors Without Borders. ANSA commented that the new 5-Star-Democratic Party government has signalled it may break with some of former interior minister and League leader Matteo Salvini's tough anti-migrant policies.
///
ATHENS
Debt collector. The IMF agrees with Christine Lagarde's statement in the European Parliament regarding the need to review the high primary surplus targets for Greece, a fund spokesperson said on Thursday. This view reflects the IMF's standing position on this issue in recent years, he added.
Meanwhile, the conservative Greek government aims for an early repayment of the "expensive" part of the IMF loan (€2.9 billion at 5.13% interest rate) and this will benefit the country by €75 million per year. (EURACTIV's partner Athens-Macedonian News Agency)
///
BRATISLAVA
Oh those Russians… Should there be a conflict between the United States and Russia, 20% of Slovaks would like the country to stand with Russia, 6% would back the US and 2/3rds would opt for neutrality, a poll conducted by the European Council on Foreign Relations think-tank has showed. Support for Russia is the highest in Slovakia among 14 countries covered by the poll. (Zuzana Gabrižová,EURACTIV.sk)
///
PRAGUE / BELGRADE
V4 backs enlargement. Prime ministers of the Visegrad Four countries adopted a declaration expressing their support for EU enlargement to include the countries of the Western Balkans. The V4 and representatives of the candidate countries met on Wednesday at a summit in Prague.
The Declaration calls for the opening of accession negotiations with North Macedonia and Albania, and expresses an expectation that the membership talks with Montenegro and Serbia will be accelerated during the work of the new Commission. Hungary's Commissioner-elect has been tasked with overseeing enlargement but will have to get the blessing of the Parliament first. (Ondřej Plevák,EURACTIV.cz, beta.rs,EURACTIV.rs)

>Read also: Orban hopeful on ties with von der Leyen's Commission
///
LJUBLJANA
Full metal jacket. Slovenian politicians are bickering over the government's intention to buy armoured vehicles. However, radical left party Levica, which is against NATO membership, opposes the purchase. Slovenia's minority government depends on Levica votes. Today, a meeting with civilian and military representatives of NATO will take place in Slovenia. (Željko Trkanjec, EURACTIV.hr)
///
ZAGREB
Protest note to Italy. Croatia's foreign affairs ministry has informed the Italian ambassador that it strongly condemns a monument to Italian fascist Gabriele D'Annunzio, which has been installed in Trieste. Yesterday, two young neo-fascists were apprehended while wearing the flag of the Kingdom of Italy. More on EURACTIV.hr (Željko Trkanjec, EURACTIV.hr)
African swine fever. The agriculture ministry, meanwhile, has announced new preventive measures which all farms must adopt in order to prevent African swine fever (ASF). Zagreb wants to speed up procedures due to increased risk, considering that the disease recently appeared in neighbouring Serbia. Read more (Karla Juničić, EURACTIV.hr)
***
[Edited by Sarantis Michalopoulos, Sam Morgan]

| | |
| --- | --- |
| | DERNIÈRES INFOS |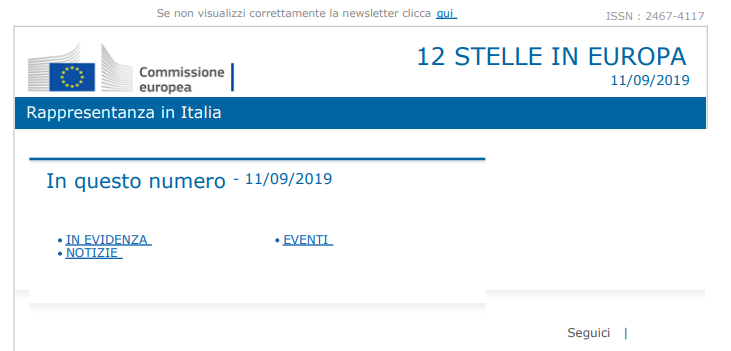 [ ... ]

Presentata la Commissione Ue 2019-2024
Bruxelles, 10 settembre 2019 – E' stata presentata oggi, dalla presidente Ursula von der Leyen, la
Commissione europea che entrerà in carica dal prossimo1° novembre e sarà attiva per i prossimi cinque
anni. Ciascun componente sarà sottoposto ad audizione da parte del Parlamento europeo dal 30 settembre
all'8 ottobre. Successivamente, la Commissione nel suo complesso dovrà essere votata dall'Europarlamento
nella sessione plenaria del 22 ottobre. Ottenuto il parere favorevole, la Commissione sarà nominata
ufficialmente dal Consiglio dell'Unione europea, di cui fanno parte tutti i capi di Stato e di governo dei paesi
membri. Questa la composizione:
• Ursula von der Leyen (Germania): presidente
• Valdis Dombrovskis (Lettonia): vicepresidente esecutivo con delega all'Economia
• Margrethe Vestager (Danimarca): vicepresidente esecutiva al Digitale e commissaria
alla Concorrenza
• Frans Tiommermans (Olanda): vicepresidente esecutivo Green deal europeo
• Vera Jourova (Repubblica ceca): vicepresidente con delega ai Valori democratici e trasparenza
• Duvravka Suica (Croazia): vicepresidente Democrazia e demografia
• Margaritis Schinas (Grecia): vicepresidente e Protezione dello stile di vita europeo
• Maros Sefcovic (Slovacchia): vicepresidente e Relazioni internazionali
• Johannses Hhn (Austria): commissario al Bilancio
• Didier Reynders (Belgio): commissario alla Giustizia
• Mariya Gabriel (Bulgaria): commissaria per l'Innovazione e Gioventù
• Stella Kyriakides (Cipro): commissario per la Salute
• Kadri Simon (Estonia): commissario all'Energia
• Jutta Urplainen (Finalndia): commissaria all'Internal partnership
• Sylvie Goulard (Francia): commissaria al Mercato interno Industria e spazio
• Phil Hogan (Irlanda): commissario al Commercio
• Paolo Gentiloni (Italia): commissario per gli Affari economici
• Virginijus Sinkievius (Lituania): commissario ad Ambiente e oceani
• Nicolas Schmit (Lussemnburgo): commissario al Lavoro
• Helena Dalli (Malta): commissaria per l'Uguaglianza
• Janusz Wojciechowski (Polonia): commissario all'Agricoltura
• Elisa Ferreira (Portogallo): commissaria per la Coesione e riforme
• Rovana Plumb (Romania): commissario ai Trasporti
• Janez Lenar (Slovenia): commissario Gestione delle crisi
• Josep Borrell (Spagna): Alto rappresentante per gli Affari esteri e la politica di sicurezza
• Ylva Johansson (Svezia): commissario agli Affari interni
• László Trócsányi (Ungheria): commissario alla Politica di vicinato e allargamento

Se non si visualizza correttamente questa e-mail cliccare qui
Politica estera governo Conte2, italiani e spese difesa, Ice stato di diritto, Brexit, Mar Nero, Afghanistan
Tra i tanti interrogativi che attendono al varco la prossima Commissione europea guidata da Ursula von der Leyen - presentata oggi in conferenza stampa a Bruxelles - c'è anche il meccanismo per il rispetto dello stato di diritto nell'Unione. Cui è dedicata un'Iniziativa dei cittadini europei (Ice) aperta alla firma pure in Italia. Pure la difesa, soprattutto ora che al Berlaymont siederà un'ex ministra delle Forze armate, spera di essere fra le priorità dell'integrazione: quanti italiani sono disposti a sostenerne un aumento delle spese?
E mentre il Parlamento del Regno Unito - da ieri 'chiuso' in seguito alla sospensione voluta dal premier Boris Johnson - chiede chiarezza sugli effetti di una no-deal Brexit il 31 ottobre prospettati nel dossier "Operazione Yellowhammer" predisposto dal governo, in Italia il nuovo esecutivo giallorosso si prepara a incassare la fiducia del Senato, dopo quella della Camera, confermando un ritrovato ancoraggio euro-atlantico. Tra Ucraina e Russia e tra talebani e americani in Afghanistan, negoziati difficili e sviluppi controversi.
ARTICOLI
PREMIO IAI
Democrazia in Europa: è l'ora della trasformazione
Il panorama europeo è costellato dalla secolare contrapposizione tra cittadino della koinè e barbaro, da intendere come strumento per rendere omaggi ai concetti di sovranità e indivisibilità nazionale. Questa manichea distribuzione politica viene modellata pedissequamente dalla routinizzazione della democrazia rappresentativa....
ULTIME DAL BLOG
IN EVIDENZA

Settembre 2019
Eventi di informazione e formazione sui programmi e gli strumenti della mobilità
I prossimi appuntamenti:
Erasmus+ | Gioventù, in cooperazione con l'Agenzia Nazionale per i Giovani
Erasmus+ | Formazione Professionale, in cooperazione con l'Agenzia Nazionale Inapp
Arezzo, 31 Ottobre 2019,
TrainingDay E+ | VET
Erasmus+ | Scuola e Istruzione Superiore, in cooperazione con l'Agenzia Nazionale Indire
Arcore (MB), 15 Novembre 2019
TrainingDay E+ | Educazione degli Adulti
Valdagno (VI), 20 Novembre 2019
TrainingDay E+ | Scuola

TIROCINI PRESSO LE DELEGAZIONI DELL'UE NEL MONDO

Le Delegazioni dell'UE offrono opportunità di tirocinio presso le proprie sedi in tutto il mondo. I tirocini sono essenzialmente rivolti a studenti e giovani laureati. L'obiettivo è di permettere ai giovani di acquisire esperienza pratica sul lavoro che si svolge all'interno delle Delegazioni e una maggiore comprensione..

EUROPEERS ITALIA: DIVENTARE "AMBASCIATORE" DELLA MOBILITA' EUROPEA!

L'Agenzia Nazionale per i Giovani - l'ente vigilato dalla Presidenza del Consiglio dei Ministri e dalla Commissione Europea, che si occupa per l'Italia dei programmi europei rivolti ai giovani - ha lanciato in Italia il network nazionale degli EuroPeers..

JUVENES TRANSLATORES: TORNA IL CONCORSO DI TRADUZIONE PER LE SCUOLE

La Commissione europea ha annunciato la 13a edizione del concorso annuale Juvenes Translatores per gli studenti delle scuole superiori.
RAPPORTO SU POLITICA E APPRENDIMENTO
"MONITORING REPORT 2018" EUROPA CREATIVA
#DISCOVEREU PHOTO & VIDEO COMPETITION
APPUNTAMENTI 2019 - ATTIVITA' DI IN/FORMAZIONE ED EVENTI
28.OTTOBRE
Tallinn

Conferenza europea "Youth for Human Rights" Tallinn, Estonia.
L'Agenzia nazionale estone per Erasmus+ invita a partecipare alla conferenza europea "Gioventù per ..
CORPO EUROPEO DI SOLIDARIETA'
La nuova iniziativa europea per il volontariato e l'accesso al mercato del lavoro rivolta ai giovani tra..
CANALE TELEGRAM DI EURODESK ITALY
Le opportunità di mobilità educativa transnazionale sul canale Telegram di Eurodesk Italy.

YOUR FIRST EURES JOB 6.0
La nuova iniziativa europea per tirocini, apprendistato e lavoro rivolta ai giovani tra i 18 e i 35 anni...

| | | | | |
| --- | --- | --- | --- | --- |
| Novità | Istruzione | Pubblicazioni | Iniziative | Formazione |
Eurodesk è la struttura del programma comunitario Erasmus+ dedicata all'informazione, alla promozione e all'orientamento sui programmi in favore dei giovani promossi dall'Unione europea e dal Consiglio d'Europa.



© Copyright Eurodesk 2019

Toward a Ukraine Summit. "The time has come, the time is right to work on reducing mistrust [with Moscow]", French Minister of Foreign Affairs Jean-Yves Le Drian said following a meeting with Defence Minister Florence Parly and their Russian counterparts, Sergey Lavrov and Sergey Shoygu.
He added, however, that it was still too early to lift EU sanctions against Moscow.
It was the first official visit in Russia since the annexation of Crimea in 2014. Since then, EU-Russia relations have reached an all-time low, as EU member states have imposed sanctions against Moscow due to the annexation and Russia's role in the conflict in eastern Ukraine.
EURACTIV France reported on 27 August that President Emmanuel Macron placed great emphasis on Russia during his annual speech in front of French diplomats, telling ambassadors that "Europe would disappear" if it fails to rethink its strategy towards Russia.
France intends to organise a Paris summit with Russia, Ukraine, and Germany.
Parly said, "We do not always have the same vision […] it's important to talk to each other, to avoid misunderstandings."
"We would like to organise in Paris a new Normandy Four meeting at the highest level," he said.
(EURACTIV.fr, Sarantis Michalopoulos/EURACTIV.com)
Vision
We live in digital times and European political leadership in the technology space is more needed than ever. Global peers are already driving significant changes in our societies and economies through technologies developed outside the EU. Read more on our
vision
to co-create a new policy agenda for Europe's tech leadership.
MADRID

Spain to boost no deal Brexit plans. The Spanish government plans to strengthen its cooperation with the autonomous communities and regions in their contingency plans in the event of a no-deal Brexit, EURACTIV's partner EFE reported.

Last week, Spain's acting socialist PM Pedro Sánchez convened the Council of Ministers in Madrid to analyse specific measures in case of the UK leaves the EU without a divorce agreement, ahead of the 31 October Brexit date.

"Spain is prepared to face the negative consequences of a no deal Brexit. In any case, the executive wants to strengthen its cooperation with the autonomous governments", Sánchez said.

The additional measures will focus on reducing the negative impact of a no deal Brexit on the economy, focusing on tourism, industry, and the banking sector, while a working group within the 'Interministerial Commission for Brexit' is expected to meet weekly to monitor the implementation of the contingency plans. (Fernando Heller /EuroEFE.EURACTIV.es)

///

WARSAW

Electoral programs. As Poland enters the crucial campaign stage ahead of the 13 October parliamentary elections, both main parties – the ruling right-wing Law and Justice (PiS/ECR) party and the centrist Civic Coalition (KO) are promising voters the moon, including higher minimum pensions, free internet for young people, lower taxes for self-employed and small entrepreneurs, funds for renovation of hospitals and train stations, construction of 100 beltways. PiS, which has a 19 point poll lead, has put more ambitious promises on the table: raise the minimum wage significantly, benefits for pensioners and higher EU payments for farmers. Both parties have so far neglected to mention how they intend to finance their promises. (Łukasz Gadzała, EURACTIV.pl/ Alexandra Brzozowski, EURACTIV.com)

///

BERLIN

Refugees' integration a 'success'. Berlin's integration commissioner, Annette Widmann-Mauz (CDU), has said the integration of refugees into the German labour market has been a success.

"The development over the past four years has been significantly better than what the labour market experts had predicted," she told the "Rheinische Post" newspaper published in Düsseldorf on Monday (9 September). According to the latest numbers, 399,000 asylum seekers are currently employed. The CDU politician added that more and more companies have also been training refugees to become skilled workers. (Claire Stam,EURACTIV.de)

///

ROME

A 'mild-mannered' executive. Italy's PM Giuseppe Conte won the first confidence vote in parliament's lower house, and a second one is due today in the Senate. The go-ahead from MPs came after a 90-minute speech in which Conte laid out the policy priorities of the new government. "The language of this government will be mild-mannered," he said.

Avoiding unpopular hikes to the sales tax set to enter into force in 2020 and reducing the tax wedge are the main economic priorities outlined by Conte. He also promised that Italy will improve relations with the EU, so long as the bloc is committed to reforming its economic governance and its migration policies. (Gerardo Fortuna, EURACTIV.com)

>>Read more: Italy's PM seeks EU reform as government wins confidence vote

///

LONDON

Prime Minister Boris Johnson said on Tuesday (10 September) he would not request an extension to Brexit, hours after a law came into force demanding that he delay Britain's departure from the European Union until 2020 unless he can strike a divorce deal.

>>Read more: Johnson tells parliament: You can tie my hands, but I will not delay Brexit

///

ATHENS

Two crucial meetings. Greek PM Kyriakos Mitsotakis is planning two critical meetings at the end of September: one with US President Donald Trump and his Turkish counterpart Recep Tayyip Erdoğan. With Trump, according to Greek press reports, the government will try to push for investment while with Erdoğan, it aims to put pressure on Ankara in light of Turkey's aggressive activities off the coast of Cyprus.

///

NICOSIA

Rejected because he acted as an EU Commissioner. The European Commission's pressure on member states to crack down on schemes granting "golden visas and passports" to foreign investors seems to have prevented outgoing Cypriot Commissioner Christos Stylianides from running for another term, sources have told EURACTIV.com.

When President Anastasiades asked Stylianides why the golden passport issue was pushed forward in the EU executive, Stylianides replied that he was an EU Commissioner and not in charge of national interests.

Asked for a comment, European Commission sources told EURACTIV.com: "Commissioner Stylianides, acting institutionally, does not wish to comment at this time. Until the end of this Commission's mandate, he remains committed to his duties and to the completion of his work."

>>Read more: How the outgoing Cypriot Commissioner got burnt

(Sarantis Michalopoulos, EURACTIV.com)

///

BRATISLAVA

Departure from the Joint Research Center. Vladimír Šucha, a former head of the European Commission's Joint Research Center (JRC), has announced that he's joining Progressive Slovakia, a new Slovak political party, saying he feels the needs to offer his experience in the fields of education, research and innovation.

"I am leaving a position, one I will not hold again in my life. My life is not about positions, although it is hard to believe. On the contrary, in my team in the European Commission, my decision caused a small revolution, since no one has done anything like that," Šucha said when asked why is he leaving a lucrative job for an uncertain political future. (Zuzana Gabrižová,EURACTIV.sk)

///

PRAGUE

Czech digital tax. The Czech finance ministry has proposed a law imposing a 7% digital service tax on internet companies with global revenues over €750 million per year. Companies with revenue generated in the Czech territory higher than €2 million will have to pay taxes for its services, such as advertising, multilateral digital interfaces or user data sales. If the parliament approves the law, it will come into effect in mid-2020. (Aneta Zachová, EURACTIV.cz)

///

SOFIA

Satisfied with the future portfolio."I am convinced that we will get a portfolio that we will like, will be modern and worthy of Bulgaria. And its funding will be at least three times larger than before", Prime Minister Boyko Borissov said when asked about the future Bulgarian commissioner. The Bulgarian candidate Mariya Gabriel is expected to get the Education, Youth, Sport and Culture portfolio. Previously, Borissov said he wanted another portfolio covering the digital single market and cybersecurity. (Dnevnik.bg)
>Read more: Commissioners assemble: Von der Leyen's list released
Espionage investigation focuses on the 'Russophiles'. The former chief editor of the daily of the opposition Bulgarian Socialist Party (BSP), Yuriy Borissov, and the paper's publisher Nikolay Malinov have been detained and interrogated in a case of espionage to the profit of a foreign country, the Bulgarian media reported. Malinov is the leader of the movement 'Russophiles" and Borissov one of its executive secretaries. Interior minister Mladen Marinov promised more information on Tuesday. (Georgi Gotev, EURACTIV.com)
///
BUCHAREST
Dancila seeks confidence vote. Romanian PM Viorica Dancila has said the government will ask for a confidence vote in parliament next week. It is still unclear whether the vote will be for a cabinet restructuring or just a reshuffle, but Dancila said she is not afraid of a no-confidence motion. The PSD socialist party recently lost its majority in the Parliament, after its junior partner ALDE left the coalition and ALDE ministers resigned. (EURACTIV.ro)
///
LJUBLJANA
No "hot political autumn". The regular monthly survey of daily Delo has showed that support for the government coalition party (LMŠ-RE) is steadily growing to 18.9% compared to 14.6% and 16.8% in the last two months. The leading opposition SDS (EPP) party is in second place with 14.7%, (0.5% lower than last month). LMŠ is on the right track to becoming a leading liberal party in Slovenia. (Željko Trkanjec,EURACTIV.hr)
///
ZAGREB
Croatia and Germany to work together. As EURACTIV.hr has already reported, Croatia and Germany will work together on the EU Council Presidency. Zagreb takes over from January 2020 while Germany assumes the Presidency in the second half of 2020.
That was confirmed following a meeting of ministers of foreign affairs, Gordan Grlić Radman and Heiko Maas, in Berlin. Maas said the joint preparations require high-level coordination between the two countries, not just bilaterally but at EU level as well. A German foreign ministry official will be deployed in Zagreb in the first half of next year to assist with operational preparations and coordination, added Maas.
Incumbent tops polls. Croatian President Kolinda Grabar-Kitarović scored 30.2% in recent polls (in August 29.3%) even though she has not announced her candidacy. She is followed by Zoran Milanović, former PM and SDP leader, with 25.5% (24.8% in August). Third is pop singer and candidate Miroslav Škoro (19.2%) who is courting the votes of the radical right. More in EURACTIV's partner jutarnji.hr, (Željko Trkanjec, EURACTIV.hr)
///
BELGRADE
Serb Ticket and opposition coalition to run in Kosovo elections. The Serb Ticket has submitted its list of candidates for Kosovo's parliament, following a decision to hold a snap vote in Kosovo. The Freedom coalition, which consists of Kosovo Serb opposition parties, also submitted a list. Together with the Serb Ticket and the Freedom Coalition, the Independent Liberal Party and the Party of Kosovo Serbs will be representing the Serbs in Kosovo in the October elections. (beta.rs,EURACTIV.rs)
///
SARAJEVO
BiH citizens in camps in Syria and Iraq. Up to 500 BiH citizens are in refugee or prison camps in Syria and Iraq and are awaiting possible deportation to their country of birth, Sarajevo-based Dnevni Avaz has said, citing unnamed government sources. All of them are connected to terrorist organisations in the Middle East. (Željko Trkanjec,EURACTIV.hr)
***
[Edited by Sarantis Michalopoulos, Benjamin Fox]

| | |
| --- | --- |
| | DERNIÈRES INFOS |

Se non si visualizza correttamente questa e-mail cliccare qui
S'insedia governo giallo-rosso, Israele al voto, Papa in Africa, premio IAI
Stesso premier, maggioranza diversa. Ieri giuramento al Quirinale del governo Conte-bis, che ha subito indicato l'ex presidente del Consiglio Paolo Gentiloni come commissario europeo in quota italiana. Un segnale, insieme al pedigree europeista di molti ministri dell'esecutivo M5S/PD, che molto è cambiato nei rapporti fra Roma e Bruxelles in capo a 15 mesi di accesi toni sovranisti.
Dopo l'annuncio della nomina di dieci nuovi cardinali elettori che aprono sempre più la Chiesa alle "periferie del mondo", Papa Francesco ha iniziato un viaggio in Africa tra Mozambico, Madagascar e Mauritius, mentre il vicino Sudafrica è scosso da proteste, sui temi, fra l'altro, della sicurezza e dei migranti. Israele, intanto, si prepara al ritorno anticipato alle urne, dopo che le elezioni di aprile, vinte dall'alleanza di destra guidata dal Likud del premier Netanyahu, non sono riuscite a dare un governo al Paese.
ARTICOLI
ULTIME DAL BLOG
IN EVIDENZA

| | |
| --- | --- |
| | DERNIÈRES INFOS |




NEWSLETTER DEL 6 SETTEMBRE 2019
Ufficiale il periodo in cui gli investitori dovranno presentare le domande: dal 1° al 31 ottobre 2019. Le risorse per l'operazione da fissare entro la fine dello stesso mese...(continua a leggere)
---