---



The Istituto Affari Internazionali (IAI) on behalf of the EU Non-Proliferation and Disarmament Consortium (EUNPDC), is pleased to invite you to the:

2021 EU Non-Proliferation and Disarmament Conference

6-7

December 2021

from 6 December at 14.00
to 7 December 16.30 CET







Working language:

English, with no translation

---

The Conference, in its 10th edition, is a major international event that gathers every year non- proliferation and disarmament experts from governmental and non-governmental institutions worldwide. Over the course of two days, participants engage in an open discussion, covering issues related to arms control, disarmament, non-proliferation of weapons of mass destruction (WMD), their delivery systems, and small arms and light weapons (SALWs). The aim of the Conference is to contribute to the implementation of the EU Global Strategy by providing recommendations on EU Non-proliferation and disarmament policies.

The Conference, organised within the framework of the activities carried out by the EU Non-Proliferation and Disarmament Consortium is funded by the European Union.

---

---

Istituto Affari Internazionali - Via dei Montecatini, 17 - 00186 - Roma - Rm - Italia - Email: iai@iai.it - Tel: +39066976831 - P.iva 02126711007

Retrouvez tous les jours, directement dans votre boîte e-mail, l'essentiel des politiques françaises et européennes – à lire pendant votre pause café !

Vous voulez savoir ce qui se passe du côté de nos voisins européens ? N'hésitez pas à vous inscrire à notre autre newsletter Les Capitales.

Aujourd'hui, au programme : Nucléaire, fusion TF1-M6, variant Omicron.

Photo : Shutterstock/esfera/nitpicker
Selon l'avocat général de la CJUE, les fonds de l'UE ne devraient pas être conditionnés au respect de l'État de droit. Le conseiller juridique de la CJUE a déclaré que les recours de Budapest et de Varsovie contre la loi européenne qui lie les fonds de l'Union au respect des normes en matière d'État de droit devaient être rejetés.

Les arguments avancés par la Hongrie et la Pologne contre le « régime de conditionnalité » visant à protégeant le budget de l'UE adopté en décembre dernier dans le cadre d'un compromis entre les dirigeants des 27 États membres, n'ont pas convaincu l'avocat général Manuel Campos Sánchez-Bordona. Lire plus…
Projet de loi pour réformer les outils de gestion des risques climatiques en agriculture. Les ministres de l'Économie, Bruno Le Maire, et de l'Agriculture, Julien Denormandie, ont présenté hier un projet de loi visant à refonder le système actuel de gestion des risques climatiques. Le texte doit « assurer à tous les agriculteurs une indemnisation de leurs pertes de récolte en cas d'aléas climatiques exceptionnels », selon le ministère de l'Agriculture.
« Les effets du changement climatique constituent une menace pour notre agriculture et notre souveraineté », a fait savoir Julien Denormandie, en référence à l'« année noire » que viennent de vivre de nombreux agriculteurs français, frappés notamment par le gel au printemps, mais aussi par des inondations et sécheresses au cours de l'année.
Alors que les aléas liés au changement climatique « vont se multiplier dans les prochaines années » et qu'ils seront « inévitablement plus nombreux et plus violents », il serait « indispensable de refonder la gestion des risques climatiques en agriculture, en créant un nouveau système universel basé sur davantage de solidarité nationale ».
Frans Timmermans : L'édition génétique serait « clairement » une action en faveur du développement durable dans l'agroalimentaire. Le vice-président de la Commission européenne, Frans Timmermans, a ajouté sa voix à la liste croissante de ceux qui, au sein de l'exécutif européen, plaident en faveur de l'édition de gènes, un geste condamné par les militants qui accusent la Commission d'avoir déjà pris sa décision sur cette technologie. Lire plus (en anglais)...
Le nucléaire, aux portes de la taxonomie européenne. A l'occasion de l'ouverture du salon mondial du nucléaire en France, mardi 30 novembre, la commissaire européenne Kadri Simson s'est exprimée sur le nucléaire, appelant à un « changement de braquet » sur les investissements afin de maintenir le niveau de production d'ici 2050. Le ciel semble s'éclaircir pour le nucléaire, qui pourrait, dans des conditions encore à déterminer, intégrer la taxonomie européenne sur la finance verte.
Cette décision, attendue de longue date et qui crée des tensions à Bruxelles, devrait être entérinée aux alentours du 15 décembre d'après nos informations. A noter que, le 1er décembre, la commission sénatoriale française des affaires économiques s'est alignée avec la commission des affaires européennes pour adopter une proposition de résolution sur l'inclusion de l'énergie nucléaire dans la taxonomie.
Selon Kadri Simson, « les termes de la discussion » autour du nucléaire sont « en train de changer » en raison de trois facteurs : l'urgence climatique, l'innovation technologique et la compétitivité, notamment des « petits réacteurs modulaires ». Lire plus…
Le ministre-président de la Saxe demande aux mineurs de protester contre la sortie du charbon en 2030. Les États allemands producteurs de charbon sont victimes d'un véritable traumatisme : en quelques mois, la date prévue pour l'abandon du charbon est passée de 2038 à 2030 «  idéalement  ». Mais leur transition économique vers l'abandon de l'industrie du charbon est loin d'être achevée, estiment certains. Lire plus...
Fusion TF1-M6 : le « statu quo n'est pas possible », selon le directeur du groupe Bouygues. Le directeur du groupe Bouygues, maison-mère de TF1, a défendu le projet de fusion devant les sénateurs mercredi (1 décembre), alors que l'avènement d'un mastodonte de l'audiovisuel suscite de grandes inquiétudes en matière de concurrence et de concentration des médias.
C'est un projet très sensible sur lequel l'Autorité de la Concurrence (AdlC) et la future Autorité de régulation de la communication audiovisuelle (Arcom), encore connue sous le nom de Conseil Supérieur de l'Audiovisuel (CSA), devront se prononcer.
TF1 et M6, les deux premiers groupes de télévision privés français, ont annoncé en mai dernier vouloir fusionner pour peser davantage face aux plateformes américaines comme Netflix, Amazon Prime ou encore Disney+ et pour mieux s'adapter aux nouvelles habitudes de consommation de l'audiovisuelle en France. Lire plus…
Les eurodéputés font pression pour élargir le champ d'application de la proposition de chargeur universel. La première audition au Parlement européen sur la proposition de standardisation des chargeurs électriques a permis de dégager un consensus entre les partis pour également inclure les chargeurs sans fil, les ordinateurs portables, les montres intelligentes et d'autres appareils électroniques. Toutefois, la Commission européenne a maintenu sa position en invoquant des raisons techniques. Lire plus…
La France se félicite du lancement des discussions sur un futur traité mondial pour prévenir les pandémies. Le ministère des Affaires étrangères et le ministère de la Santé ont salué ensemble la décision de créer un nouveau texte pour lutter contre les futures pandémies, lors de la session extraordinaire de l'Assemblée mondiale de la santé qui s'est tenue du 29 novembre au 1er décembre.
« En complément d'un traité sur les pandémies, la France est favorable à la révision du Règlement sanitaire international et souhaite une meilleure mobilisation politique et financière de la communauté internationale pour la préparation et la réponse aux pandémies », ont également indiqué les ministères dans un communiqué de presse conjoint.
Variant Omicron : espérer le meilleur, se préparer au pire, selon Ursula von der Leyen. Bien que le variant Omicron de la Covid-19 doive faire l'objet de recherches plus approfondies, l'Europe en sait «  suffisamment pour être inquiète  », selon la présidente de la Commission européenne, Ursula von der Leyen.
Au cours des derniers mois, l'Union européenne a eu le temps de se préparer à gérer les crises sanitaires potentielles à venir. Aujourd'hui, le nouveau variant Omicron pourrait mettre ces préparatifs à l'épreuve.
La semaine dernière, l'annonce d'un nouveau variant, signalé pour la première fois en Afrique du Sud mercredi 24 novembre, a mis les scientifiques et les hommes politiques sur le qui-vive. Des cas d'Omicron ont déjà été signalés dans plusieurs États membres européens. Lire plus...

Se non si visualizza correttamente questa e-mail cliccare qui
La tragedia della Manica fra Johnson e Macron e l'inverno afghano per Human Rights Watch
Parigi ha ritirato l'invito e il Regno Unito non ha partecipato al summit di Calais sull'immigrazione, ma dopo la tragedia della Manica il premier britannico Boris Johnson ha ancora più bisogno di alleati per affrontare il dossier. Anche perché questo nuovo fronte aperto rischia di rivelarsi l'ennesima crisi politica che lo danneggia agli occhi del partito conservatore, ci racconta da Londra Alessandra Rizzo.
In Afghanistan, denuncia Human Rights Watch in un rapporto appena pubblicato, le promesse di un'amnistia verso militari, polizia, membri dell'intelligence del precedente governo rischiano di essere una speranza illusoria: i talebani non mantengono fede agli impegni, e pure sui diritti delle donne l'apertura dimostrata è unicamente di facciata. Questo e molto altro ancora su AffarInternazionali, la rivista dello IAI.
ARTICOLI


Newsletter n. 249
Aiuta l'emeroteca della Fondazione
L'emeroteca della Fondazione è oggi costituita da 425 periodici, spenti e in vita, che riguardano le strutture organizzative della categoria e le tematiche sul giornalismo. Il nucleo iniziale è costituito dalle collezioni dell'Associazione della Stampa Periodica Italiana (ASPI), che rappresentano una preziosa rarità e vanno dalla Deutsche Illustrirte Zeitung (1884-1887) al Don Chisciotte (1893-1899), alla Illustracion Espanola Americana (1902-1915), al Mercure de France (1907-1925), ecc., cui si sono aggiunte le collezioni delle testate in possesso dei quattro enti istitutivi nonché le donazioni pervenute da altre istituzioni o soggetti privati.
L'emeroteca della Fondazione contiene, tra l'altro, le collezioni integrali dei periodici che nel corso degli anni sono stati pubblicati come organi ufficiali della Federazione della Stampa, delle singole associazioni regionali, dell'Inpgi, dell'Ordine professionale e della Casagit.
Chiediamo a tutti i colleghi ed agli amici della Fondazione di visitare sul nostro sito l'elenco dei periodici che possediamo al seguente link:
http://www.fondazionemurialdi.it/Documenti/Emeroteca/EMEROTECA%20-%20PERIODICI%20SPENTI%20E%20IN%20CORSO_2.pdf
L'invito che vi rivolgiamo è di aiutarci a completare le collezioni incomplete, qualora fossero in vostro possesso numeri mancanti.
La biblioteca della Fondazione è aperta al pubblico dal lunedì al venerdì dalle ore 9.00 alle ore 13.00.
Il regolamento è consultabile al seguente link:
http://www.fondazionemurialdi.it/Documenti/Regolamento_sala_studio.pdf
sito: www.fondazionemurialdi.it

YOUNG PEOPLE ARE MORE OPTIMISTIC TODAY!

According to a new international survey by UNICEF and Gallup, children and young people are nearly 50% more likely than older people to believe that the world is becoming a better place. They believe childhood itself has improved, with overwhelming majorities believing that healthcare, education, and physical safety are better for today's children than for their parents' generation. Despite their feelings of depression and anxiety experienced during the Covid-19 pandemic, the younger generation are more positive and globally minded than their elders. They see themselves as global citizens, and more likely to embrace international cooperation to tackle news threats and emergencies - whether economic crises, conflict or disease outbreaks. They certainly believe that greater changes can be made by investing more in science and technology, and strengthening global cooperation with international institutions.

WILL MILLENNIALS & GEN Z SAVE THE CINEMAS?

Quite often, it has been said that Millennials and Gen Z invented 'Netflix and chill'. It is not a big surprise as they actually grew up with digital streaming and binge-watching. Before the pandemic, about 27% of Millennials reported going to the movie theaters monthly while only 19% of Gen Z attended cinemas on a monthly basis. Since the pandemic, these numbers have dropped sharply to 8% and this is certainly not due to health concerns. About 60% of the young audiences admitted that they would rather watch a comedy or sci-fi movie from their couch at home than go to the cinema, after experiencing this option during the pandemic. There is not much evidence that younger cohorts have become particularly disdainful of the theatrical experience, but rather it has become a comfortable habit.
YOUTH PERSPECTIVES | CLIMATE CHANGE & ENVIRONMENT

On November 13, the COP26 came to an end with the Glasgow Climate Pact formally adopted but it fell short of taking direct climate action. This month, we bring you perspectives and inspiring stories about young people who are demanding real actions from governments on global heating and the ecological crisis.

ONLY ADULTS IN THE ROOM

The COP26 closed with a final agreement officially recognizing, for the first time, that fossil fuels and coal are the main drivers of climate change. The agreement represents the commitment of the countries that largely caused climate change to financially support those who are suffering the most from it. Although it was hoped that youth would be heard by world leaders on this topic, the agreement differs significantly from the COY16 Global Youth Position Statement, signed by more than 40,000 young climate activists. In this document, they demanded an intersectional approach to environmental governance, a more ambitious commitment from the Global North to support countries in the Global South and direct measures to penalize the use of fossil fuels. In support of these demands, more than 100,000 young people demonstrated in the streets of Glasgow during the COP26 Summit asking for real actions against the climate crisis.

THIS IS ONLY ABOUT HUMAN LIVES!

About 307,000 people died prematurely due to exposure to fine particulate matter pollution in the European Union in 2019. The European Environment Agency (EEA) has recently published a study estimating that 58% of such premature deaths could have been avoided if all EU Member States had reached the World Health Organization (WHO)'s new air quality guideline level of 5 µg/m3. The study also shows the differences in years of life lost between EU Member States. For example, in Sweden, 258 years of life were lost per 100,000 inhabitants while in Bulgaria, 1,606 years of life were lost per 100,000 inhabitants due to fine particulate matter pollution. Every year, exposure to air pollution is estimated to cause 7 million premature deaths worldwide according to WHO. Let's think about it!
YOUNG PERSON OF THE MONTH | KALUKI PAUL MUTUKU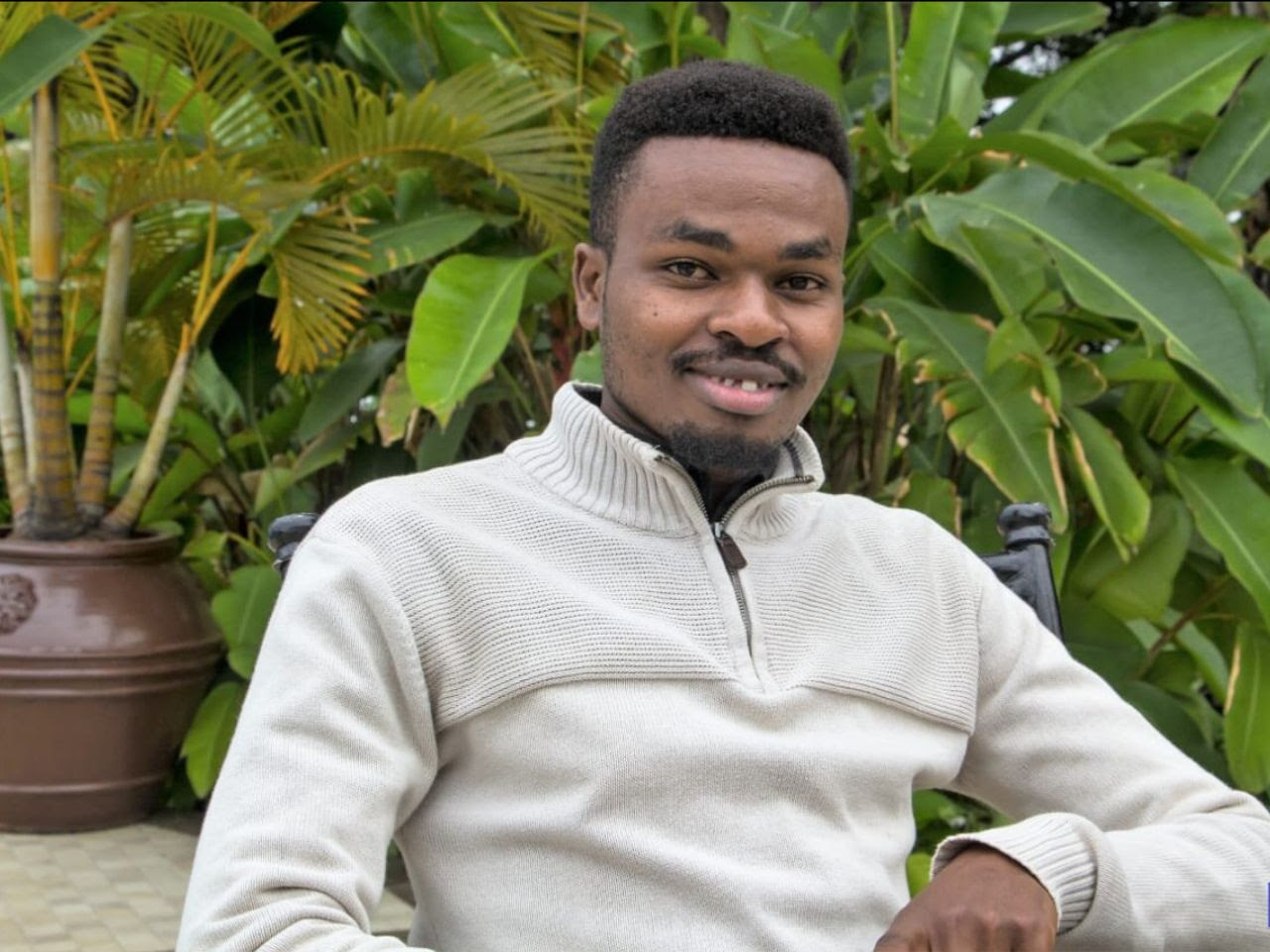 Copyright: Youth4Nature
Kaluki Paul Mutuku is a 28 years-old climate advocate and environmental activist. He

grew up in Machakos, a rural community in the Kenyan countryside,
where he witnessed the gradual decline of his village's landscapes and progressive water scarcity.
He pursued his studies in Environmental Conservation and Natural Resources Management at the University of Nairobi when he founded Green Treasurers Farms (GTF) community.
GTF helps young girls and boys become
the new generation of 'green entrepreneurs'.
The community aims to teach them about sustainable methods to ensure water availability, grow trees and reduce the waste of environmental resources to zero. Today, Kaluki is also the Africa Regional Director at Youth4Nature, a global youth-led organisation empowering youth to lead with solutions to climate crises. As Co-Founder and Managing Director at Kenya Environmental Action Network, Kaluki leads KEAN Bustani Gardens Program to improve education about healthy food systems, environmental conservation and sustainability in Kenyan schools and communities.
THINKYOUNG STANDS AGAINST GENDER-BASED VIOLENCE:
INSTAGRAM LIVE WITH ANTONELLA CRICHIGNO
For this year's

#16Days of Activism Against Gender-Based Violence, we organized the second Instagram LIVE for the
ThinkYoung Live Talk series
. On Friday 26, we virtually met Antonella Crichigno, a young feminist activist and member of Young Feminist Europe. We discussed the different forms of gender-based violence, the possible solutions to this global problem and how the younger generation can take an active role in this fight for a more equal world.
If you missed the Live, follow us on Instagram and click here to watch it now!
REGISTRATION IS OPEN FOR THE NAIROBI CODING SCHOOL!

In partnership with Boeing, we will host the
12th edition of ThinkYoung Coding School in Nairobi
.
On January 29/30 & February 5/6, students aged between 13 and 19 years old will attend lessons in computer programming with coding experts. They will maximize their coding skills with activities related to the aviation industry, robotics and drones. The programme is 100% free of charge and will provide students with a unique experience of a school characterised by innovative approaches to STEM.
Check out our website and discover how much fun #coding is!
ONE YOUTH AMBASSADOR PROGRAMME 2022
ONE is looking for 60 Youth Ambassadors of any European nationality, 16-30 years old, living in Belgium for 2022 -
Applications are still open!
Don't miss the opportunity to get involved in the field of international solidarity and fight against extreme poverty and preventable diseases!

CARE LETTRICI E CARI LETTORI,
La nostra newsletter settimanale Noi e il futuro dell'Europa è stata concepita per contribuire ad una corretta informazione sull'Unione europea e partecipare al dibattito sulla riforma dell'Unione a partire dalla Conferenza sul futuro dell'Europa.
Come sapete, la Conferenza è stata avviata il 9 maggio 2021 a Strasburgo e dovrebbe concludersi nella prossima primavera.
Ecco l'indice della nostra newsletter:

Una candela per i diritti umani, il 60° compleanno di Amnesty International a Roma, Fiera della piccola e media editoria Piùlibri piùliberi
Sedici grandi autrici e autori che negli anni hanno mostrato particolare vicinanza ai temi dei diritti umani firmano altrettanti testi inediti in occasione del 60° compleanno di Amnesty International. Ognuno di loro racconta il significato del lavoro di Amnesty International per il proprio vissuto e la propria crescita personale, offrendo alle lettrici e ai lettori uno sguardo sul futuro dei diritti umani, per mantenere sempre accesa la luce della speranza.
I vari contributi sono raccolti in un'antologia collettiva dal titolo Sessant'anni dalla parte dei diritti umani, e ogni contributo spiega il significato del lavoro di Amnesty International e offre alle lettrici e ai lettori uno sguardo sul futuro dei diritti umani attraverso approfondimenti sui temi che autrici e autori sentono particolarmente vicini.
Il libro viene presentato a Roma, nell'ambito della Fiera della piccola e media editoria Piùlibri piùliberi che si tiene presso il Centro Congressi La Nuvola (viale Asia), sabato 5 dicembre alle 12,30 in Sala Nettuno. Intervengono le autrici e gli autori, tra cui Riccardo Noury, Angela Caponnetto, Caterina Bonvicini e Ascanio Celestini.
Hanno partecipato alla creazione di Sessant'anni dalla parte dei diritti umani, in ordine alfabetico: Caterina Bonvicini, Pino Cacucci, Annalisa Camilli, Angela Caponnetto, Paola Caridi, Giuseppe Catozzella, Ascanio Celestini, Giancarlo De Cataldo, Alessio Forgione, Fabio Geda, Riccardo Noury, Moni Ovadia, Roberto Saviano, Elena Stancanelli, Domenico Starnone, Gian Antonio Stella.
Il libro:
Titolo: Sessant'anni dalla parte dei diritti umani
Autore: Amnesty International
(€ 13,00 – pag. 112)


L'Autore
Amnesty International è un'organizzazione non governativa indipendente, una comunità globale di difensori dei diritti umani che si riconosce nei princìpi della solidarietà internazionale. L'associazione è stata fondata nel 1961 dall'avvocato inglese Peter Benenson, che lanciò una campagna per l'amnistia dei prigionieri di coscienza. La visione di Amnesty International è quella di un mondo in cui a ogni persona siano riconosciuti tutti i diritti umani sanciti dalla Dichiarazione universale dei diritti umani e da altri atti sulla protezione internazionale dei diritti umani. Per maggiori informazioni: www.amnesty.it
Per informazioni:
Infinito edizioni: 059/573079 - 331/2182322