Settimana 17 – 23 febbraio 2020




Attività delle commissioni a Bruxelles

Consiglio Europeo sul QFP. Il Presidente del Parlamento europeo Sassoli si rivolgerà al Consiglio europeo straordinario, (giovedì ore 15.00) esponendo la posizione del Parlamento sui negoziati in corso sul bilancio dell'UE per il 2021-2027 (Quadro Finanziario Pluriennale), seguirà una conferenza stampa. Durante il dibattito in plenaria a Strasburgo, i deputati hanno sottolineato che il Parlamento darà il proprio consenso a un bilancio che corrisponda alle ambizioni dell'UE.

Governance economica dell'UE. martedì e mercoledì, si terrà la European Parliamentary Week 2020. Gli europarlamentari e i parlamentari nazionali di ogni Stato membro, così come quelli dei paesi candidati e osservatori, discuteranno della governance economica europea e del suo coordinamento. Interverranno il Presidente del Parlamento Sassoli, il Presidente dell'ECOFIN Zdravko Marić e il Presidente dell'Eurogruppo Mário Centeno. Le Commissioni per gli Affari economici e Monetari e dell'Occupazione e Affari Sociali adotteranno risoluzioni relative ai temi discussi martedì e giovedì.

Selezione di progetti energetici per l'UE. Gli eurodeputati della Commissione Industria, Ricerca e Energia forniranno discuteranno la revisione delle linee guida per la selezione dei progetti energetici di interesse europeo. La Commissione proporrà, entro quest'anno, una nuova legislazione per includere gli obiettivi del Green Deal nella scelta e finanziamento delle infrastrutture prioritarie europee (mercoledì).

Protezione degli interessi finanziari europei. La Commissione Controllo dei Bilanci completerà la procedura di discarico 2018, esprimendo il proprio verdetto su come è stato gestito il bilancio europeo. Le votazioni riguarderanno le spese della Commissione, Parlamento, fondi UE, delle altre Istituzioni, Agenzie e iniziative comuni (mercoledì e giovedì).

Iniziative Digitali. Le Commissioni Mercato interno e protezione dei consumatori e Industria discuteranno sulle nuove azioni della Commissione nel settore digitale con il commissario per il mercato interno Thierry Breton: Si tratta di: una "Strategia adeguata per preparare l'Europa all'era digitale", un "Libro bianco sull'intelligenza artificiale" e Strategia europea sui dati" (mercoledì).

Intelligenza artificiale. La Commissione Cultura e istruzione terrà un'audizione pubblica con esperti sull'uso dell'IA, e sulle conseguenze legali nei settori dell'istruzione, cultura e audiovisivo. La Commissione Libertà civili sta organizzando un'audizione pubblica per discutere dell'uso dell'IA nel diritto penale e da parte delle autorità giudiziarie, compresi il riconoscimento facciale e la vigilanza predittiva (rispettivamente mercoledì e giovedì).

Agenda del Presidente.

Lunedì Il presidente Sassoli incontrerà il primo ministro serbo Ana Brnabice il presidente della Camera dei deputati rumeno Marcel Ciolacu.

Martedì, il presidente incontrerà il presidente del parlamento norvegese Tone Wilhelmsen Trøen, il primo ministro della Macedonia del Nord Oliver Spasovski, il sindaco di Londra Sadiq Khan e i genitori del giornalista slovacco assassinato Ján Kuciak.

Mercoledì il presidente incontrerà il governatore della Banca d'Inghilterra Mark Carney e il presidente di Cipro Nicos Anastasiades.
Agenda settimanale
Maurizio MOLINARI
Responsabile Media del Parlamento europeo in Italia
| | |
| --- | --- |
| | (+39) 02 434417519 |
| | (+39) 339 530 0819 |
| | |
Alberto D'ARGENZIO
Addetto Stampa - ROMA
| | |
| --- | --- |
| | (+39) 06 69950206 |
| | (+39) 335 8152777 |
| | |
Valentina PARASECOLO
Addetto Stampa - MILANO
| | |
| --- | --- |
| | (+39) 02 434417513 |
| | (+39) 393 2417646 |
| | |
Alfonso PIROMALLO
Addetto Stampa - MILANO
| | |
| --- | --- |
| | (+39) 02 434417513 |
| | (+39) 3357872847 |
| | |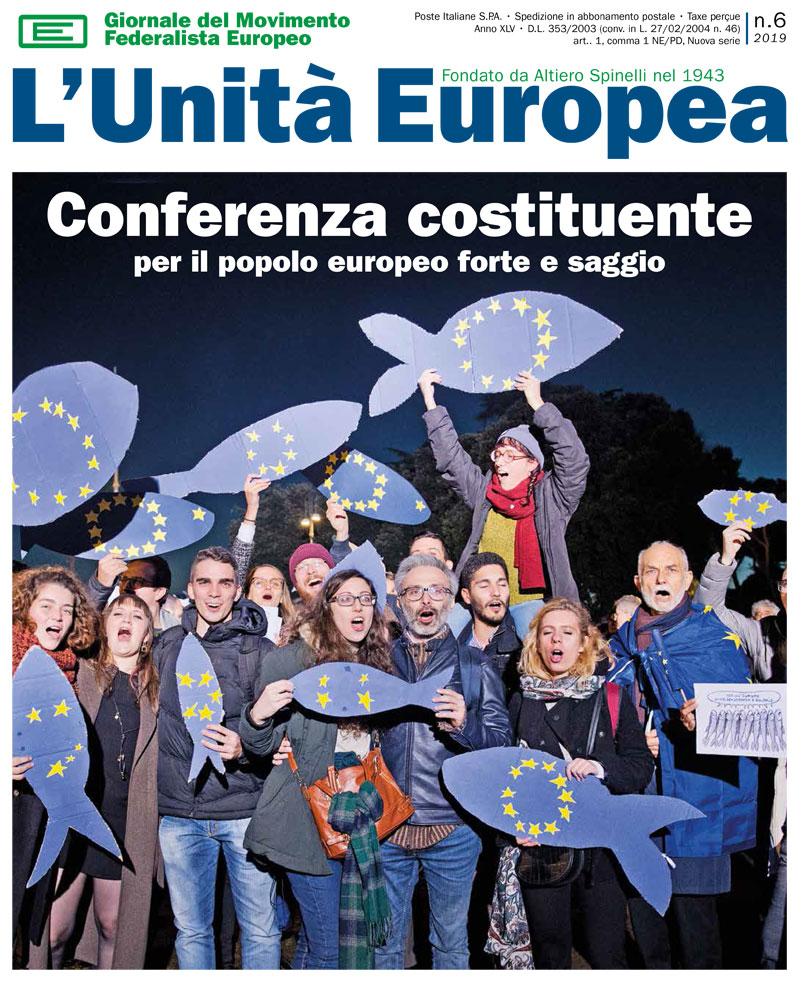 [ ... ]

Se non si visualizza correttamente questa e-mail cliccare qui
---
Nuovi corsi di formazione IAI

L'

Istituto Affari Internazionali

è lieto di segnalarvi le

attività di formazione

previste per il primo semestre del 2020.

Dal 2018 l'Istituto Affari Internazionali ha avviato un programma di formazione rivolto a studenti, laureati e giovani professionisti, attraverso l'offerta di corsi intensivi di sviluppo professionale e approfondimento in tematiche di rilevanza attuale.

Per la primavera 2020, lo IAI ha ampliato ulteriormente i contenuti della sua offerta formativa, con nuovi corsi, simulazioni e attività sulla geopolitica regionale. Tra marzo e maggio, saranno attivi:

- Corso di Formazione Analista Euro-Mediterraneo (3-6 marzo)
- Corso di Formazione Analisi e Gestione delle Emergenze (10-13 marzo)
- Corso di Formazione Rischio Politico (16-20 marzo)
- Corso Intensivo Regional Geopolitics "La Cina in politica estera: opportunità, sfide, nuovi equilibri" (23-24 marzo)
- NATO Simulation Game (1-3 aprile)
- Corso Intensivo Regional Geopolitics "Geopolitica dell'Africa Subsahariana" (6-7 aprile)
- Corso di Formazione Sviluppo Sostenibile e Risorse (5-8 maggio)
- Corso Intensivo Regional Geopolitics "Gli Stati Uniti nel mondo" (18-19 maggio)
- Corso in New European Politics (25-29 maggio)

Attraverso la metodologia della didattica ibrida, che combina moduli didattici tradizionali con attività di laboratorio e la programmazione di simulazioni, i corsi di formazione dell'Istituto hanno come obiettivo, oltre all'approfondimento delle tematiche affrontate, un trasferimento di competenze operative da poter sfruttare in ambito lavorativo.

Per qualunque chiarimento o dettaglio sui corsi e le attività formative dell'Istituto potete scrivere all'indirizzo email edu(at)iai.it.

Segnaliamo, inoltre, il lancio della terza edizione del Premio IAI "Giovani talenti per l'Italia, l'Europa e il mondo", destinato a universitari, neolaureati e studenti delle scuole superiori. Il tema di quest'anno è "Il pianeta, l'Europa e io". I ragazzi interessati potranno partecipare inviando un saggio o un videoclip che proponga la loro visione del tema proposto.

Sperando che queste iniziative incontrino il Vostro interesse, ringraziamo per l'attenzione e porgiamo i migliori saluti,

Segreteria Formazione

---

---
Via A. Brunetti 9 - 00186 Roma
Tel.: +39/063224360
E-mail:
iai@iai.it

| | |
| --- | --- |
| | DERNIÈRES INFOS |


Se non si visualizza correttamente questa e-mail cliccare qui
Parla l'inviato Ue per il Sahel, Italia e missioni militari, la tela saudita
La strategia jihadista comincia a dare i propri frutti nel Sahel, una regione che sta affrontando varie crisi allo stesso tempo e si trova nella morsa della radicalizzazione: "Per questo dobbiamo agire immediatamente come comunità internazionale", ci dice il rappresentante speciale dell'Unione europea Ángel Losada Fernández, a Roma per partecipare a un workshop allo IAI, in un'intervista esclusiva in vista della conferenza dei capi di Stato Ue e del G5 (Mali, Mauritania, Niger, Ciad e Burkina Faso) a metà marzo e dell'invio di nuove truppe da parte della Francia.
E mentre prosegue il nostro dibattito su una strategia per le missioni militari internazionali dell'Italia, con il voto in New Hampshire che conferma la corsa a due Bernie Sanders-Pete Buttigieg in testa al campo democratico, le primarie di Usa2020 entrano nel vivo: non perdete gli aggiornamenti quotidiani nel Diario Usa2020 di Giampiero Gramaglia. Questo e molto altro ancora online su AffarInternazionali, la rivista dello IAI.
ARTICOLI
INCUBO SAHEL


Parla Losada, rappresentante speciale dell'Ue


Il diplomatico Ángel Losada Fernández è il Rappresentante speciale dell'Unione europea per il Sahel. A Roma per partecipare al workshop "The future of public goods in Africa", organizzato dallo IAI, accetta di conversare con AffarInternazionali. La situazione del Sahel preoccupa...
IL NUOVO VOLTO DELLA POLITICA ESTERA SAUDITA
Riad guarda a Oriente
Un approccio più assertivo e interventista a livello regionale, e un allargamento – soprattutto a Est – del ventaglio di partnership da coltivare sullo scacchiere globale: questo è il quadro dell'attuale politica estera dell'Arabia Saudita che emerge da una serie...
ULTIME DAL BLOG

NEWSLETTER DEL 14 FEBBRAIO 2020
Gli editori interessati su base territoriale. In base agli accordi sottoscritti dall'USPI con le Biblioteche Nazionali Centrali di Roma e Firenze per il "deposito legale" dei prodotti editoriali presso gli Archivi Nazionali...(continua a leggere)
---
---
---
Segnaliamo inoltre:
- Vendita dei giornali, crisi globale, pubblicità e ruolo di Facebook
- INPGI, emanate le Circolari nn. 1 e 2 del 30/01/2020
- L'Ordine dei giornalisti crea un apposito registro per gli aspiranti pubblicisti
---
Servizio di Rassegna Stampa relativo al mondo dell'editoria e della comunicazione presente nell'area riservata ai Soci del sito - clicca per restare sempre aggiornato
www.uspi.it uspi@uspi.it uspi@pec.uspi.it
tel. 06.4071388 - 06.4065941 (anche fax)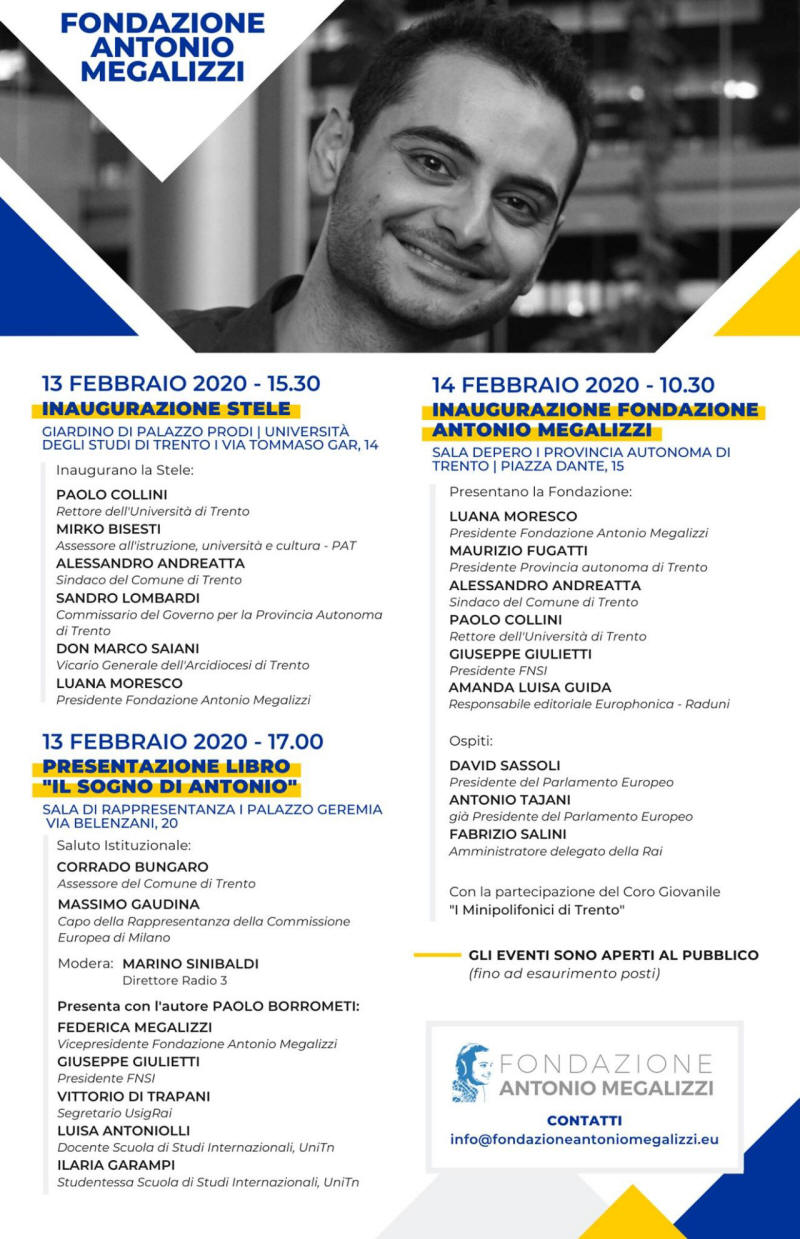 Comunicato Stampa
12.02.2020
Altre versioni linguistiche sono disponibili qui
Sassoli: il Parlamento andrà fino in fondo e sarà pronto a respingere il bilancio a lungo termine se non sarà all'altezza delle ambizioni europee

A seguito di un dibattito nel Parlamento europeo sul Quadro Finanziario Pluriennale (QFP) dell'UE per il 2021-2027, il Presidente Sassoli ha avvertito i governi nazionali che il PE non sosterrà alcun accordo che comporti dei tagli ai programmi chiave sui quali la popolazione europea fa affidamento.
Il Presidente Sassoli ha dichiarato:

"Il Quadro Finanziario Pluriennale è la partita più importante dall'inizio della legislatura. Il Parlamento europeo sostiene un bilancio ambizioso perché riguarda il finanziamento delle sfide proposte dalla Commissione e dei programmi di successo dell'UE senza i quali non sarebbe possibile sviluppare crescita e uguaglianza. Queste proposte promuoveranno la crescita e aiuteranno a combattere la disuguaglianza in Europa. I governi nazionali sostengono questi obiettivi ma attualmente non stanno fornendo all'UE i mezzi necessari per raggiungerli.

Ci teniamo a dire che un accordo in Consiglio è molto importante ma se non sarà in linea con le posizioni del Parlamento, andremo in fondo e rifiuteremo la proposta. Il bilancio pluriennale non è un trasferimento di soldi ad entità astratte ma serve agli Stati Membri per aumentare le loro capacità e questo ha conseguenze reali sulla vita di tutti gli europei. Come possiamo anche solo pensare di tagliare programmi di successo come Erasmus + o misure progettate per proteggere i nostri confini?

C'è molta attenzione anche su come l'Europa svilupperà la propria leadership nella lotta ai cambiamenti climatici. Diventare il primo continente neutro dal punto di vista climatico richiede cambiamenti senza precedenti sia per le nostre economie che per le nostre società. Ma questo non potrà avvenire creando disuguaglianze. Vogliamo riconvertire le nostre aziende, non vogliamo perdere posti di lavoro e dobbiamo garantire che coloro che saranno maggiormente colpiti da questi cambiamenti non vengano dimenticati. Per questo il Just Transition Fund deve essere finanziato in maniera consistente e il Parlamento non vuole rinunciare a questa ambizione."

Un bilancio dell'UE ben finanziato è nell'interesse di tutti gli europei e di tutti gli Stati membri. Questa legislatura deve iniziare con il piede giusto, e mi auguro che nessun governo scommetta sul fallimento della nuova Commissione. Questo è nell'interesse degli Stati membri, quali sfide i singoli paesi europei possono affrontare da soli? Nessuno può fare affidamento esclusivamente sui finanziamenti dei governi nazionali. Per questo serve una Europa più forte e dotata di risorse sufficienti."
Roberto CUILLO
Portavoce del Presidente del Parlamento Europeo
(+32) 2 28 32494 (BRU)

(+33) 3 881 72340 (STR)

(+32) 470 89 25 92

Having trouble viewing this email? Click here

Please disregard this message if you have already answered
---
The Istituto Affari Internazionali is pleased to invite you to the Book presentation on:

Political Economies of the Middle East and North Africa

14

February 2020

from 11.00
to 12.30

Registration h. 10.45

IAI Library Room

Via Angelo Brunetti, 9 - Rome

With

Robert Springborg

Professor (ret) of National Security Affairs, Naval Postgraduate School, and Non-resident Research Fellow, Italian Institute of International Affairs

Introductory remarks and chair

Daniela Huber

Head of the Mediterranean and Middle East programme, IAI

Working language:

English, with no translation.

Access will be permitted only to those people who will confirm their participation and until seats are available.

---

Despite its oil wealth, the Middle East and North Africa is economically stagnating. Growth rates are comparatively unfavorable and insufficient to substantially improve citizens' lives. Whether this economic inertia can be overcome or will continue into the indefinite future is a vital question that confronts both the region and the world.
In his talk leading Middle East scholar Robert Springborg discusses the economic future of this region by examining the national and regional political causes of its contemporary underperformance.

---

---

Se non si visualizza correttamente questa e-mail cliccare qui
Il caso Zaki e la politica italiana verso l'Egitto, caos Cdu, Sinn Féin primo in Irlanda
Il terremoto politico in Turingia - dove cristiano-democratici e liberali hanno eletto un governatore con i voti dell'ultradestra - fa vittime eccellenti nella Cdu, il partito di Angela Merkel: l'erede designata Annegret Kramp Karrenbauer si dimette ed è buio pesto sulla successione alla Cancelliera, tra un anno. Tre i nomi in corsa per il futuro: in ballo è anche l'eredità politica di quasi 15 anni di governo Merkel. E dopo il pareggio a tre in Irlanda, con uno storico primo posto per i nazionalisti di sinistra di Sinn Féin, che esecutivo si formerà a Dublino per seguire i mesi cruciali del negoziato sui rapporti post-Brexit fra Unione europea e Regno Unito?
Bendato, minacciato di essere stuprato, sottoposto a tortura con elettrochoc per ore: il caso di Patrick George Zaki, studente egiziano dell'Università di Bologna, arrestato venerdì scorso al Cairo e detenuto a Mansura, fa tornare alla mente i giorni successivi al rapimento di Giulio Regeni. Sui media italiani la vicenda ha aperto anche un dibattito sulla natura della politica italiana verso l'Egitto. Pubblichiamo sulla questione gli articoli di Paola Caridi e Michele Nones. Questo e molto altro ancora online su AffarInternazionali, la rivista dello IAI.
ARTICOLI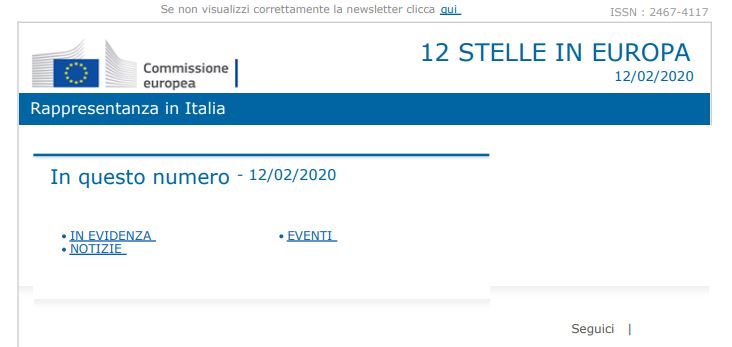 [ ... ]

Before you start reading today's edition of the Capitals, we invite you to read the story "EU to test its readiness to face Coronavirus at extraordinary meeting" written by Sarantis Michalopoulos.
Also, feel free to have a look at the article "CDU crisis to put question mark on German EU-Presidency" written by EURACTIV Germany's Claire Stam.

***photo by EPA/FILIP SINGER
///
ZAGREB. One of the most powerful members of Croatian ruling party HDZ (EPP), vice president Milijan "Vaso" Brkić, has officially endorsed the candidacy of former foreign minister Miro Kovač, who is representing a rebel faction and is running against the Prime Minister Andrej Plenković.
In a controversial TV interview, Brkić accused the PM of creating a destructive personality cult and surrounding himself with yes-men who are not loyal to the party. Besides, he noted that the rift between the HDZ's moderate and conservative wing had started when the party voted on the Istanbul Convention on preventing and combating violence against women and domestic violence, adding that "we did not need that divisiveness. We should have approached the issue of domestic violence differently".
But how did the Croatian PM reacted to this interview? EURACTIV Croatia's Tea Trubić Macan reports.
///
BERLIN
Thuringia's aftershocks reach the CDU. Germany's defence minister, Annegret Kramp-Karrenbauer, decided to step down as leader of the Christian Democratic Union on Monday (10 February) during a party executive committee meeting. While she will remain in office as party leader until December and continue as defence minister, she pledged to "organise the process of candidacy for Chancellor this summer, continue to prepare the party for the future, and then give up the party chairmanship".
Kramp-Karrenbauer's decision comes on the heels of the political crisis in Thuringia, where the state branch of her party joined with the liberals (FDP) and far-right Alternative for Germany (AfD) to elect Thomas Kemmerich as the Minister-President. Although Kemmerich then stepped down after a brief 25-hour stint, the election raised questions about her leadership, as the state party openly defied her orders not to work with the AfD. (Sarah Lawton | EURACTIV.de)
///
PARIS
France unlikely to inject more money into the EU budget. After European Parliament negotiators came to Paris yesterday (10 February) to try and convince the French government to increase its contribution to the EU budget, it seems that France will not budge despite being keen to keep agriculture spending, of which it is the main beneficiary, intact. Instead, France would prefer to see the budget financed by the EU's own resources with the implementation of a carbon border tax or a by a so-called GAFAM levy on Google, Apple, Facebook, Amazon, and Microsoft. To read more on this issue, click here
///
BRUSSELS
Another extension. The mission of Koen Geens (CD&V) to form a federal government has been extended by the Belgian King until 17 February. According to him, the best coalition formula still remains one that enjoys broad political support, namely based on the Socialist PS and the Flemish nationalist N-VA. However, so far the parties have not found common ground for an agreement. (Alexandra Brzozowski | EURACTIV.com)
///
VIENNA
Social democrats demand the government withdraws from Airbus contract. Since Airbus admitted to "wrongdoing" and insufficiently labelling "political contributions" to officials in connection with Austria's purchase of 18 "Eurofighter" jets in 2003, the defence spokesperson of the social democratic party (SPÖ) suggested that the government use a clause in the contract to withdraw from it, even though it is still unclear who has been paid. EURACTIV Germany's Philipp Grüll has more.
////
HELSINKI
Finland will become the sole uranium producer in the EU. The Finnish government has granted a uranium recovery and refinery permit to Terrafame, a 70% state-owned company. Since the Czech Republic and Romania have stopped their operations this decision will make Finland the EU's only uranium producer. EURACTIV's Pekka Vänttinen digs deeper.
---
UK AND IRELAND
LONDON
Too much friction. Boris Johnson's chief ally has warned businesses that the days of 'frictionless' trade with the EU are over when an eleven month post-Brexit transition period ends in December. Benjamin Fox reports from London.
///
DUBLIN
UK's close relationship? Following the success of the nationalist Sinn Féin party in this weekend's Irish general election, the UK have said that they hope both ruling parties become close partners. "The UK and Ireland are close neighbours and friends and we look forward to continuing to work together," a spokesperson for UK Prime Minister Boris Johnson said yesterday, adding that the 'close relationship' between the UK and Ireland should continue regardless of Sinn Féin's election success. Sinn Féin's central policy is to campaign for a united Ireland, with Northern Ireland rescinding its constitutional alliance with Great Britain. (Samuel Stolton | EURACTIV.com)
---
EUROPE'S SOUTH
ROME
Tension in the coalition. Renzi's centrist party Italia Viva has threatened to trigger a political crisis by proposing a no-confidence motion against Justice Minister Alfonso Bonafede in the event that the other co-ruling parties force the approval of the statute of limitations' reform. Anti-establishment Five Star Movement and centre-left Democratic Party (PD) have agreed to scrap time limits for prosecution for those found guilty in a first trial, which is considered unconstitutional by Italia Viva. (Gerardo Fortuna | EURACTIV.com)
///
MADRID
Spain's leftist leader Iglesias to join government talks with Catalan separatists. Pablo Iglesias, leader of leftist Unidas Podemos (United We Can) and Spain's Minister for Social Rights, will take part in the "Mesa de Diálogo" (dialogue table) with Catalan separatist leaders, together with members of the socialist party (PSOE), EURACTIV's partner EFE reported. Read the full story in English here.
///
ATHENS
Closed hosting structures. The Greek government has announced that it will requisite properties and land for use in managing the migration/refugee crisis. Particularly, government spokesman Stelios Petsas said on Monday that a legislative act published Monday will allow the requisition for "reasons of public interest", such as for the creation of "closed hosting structures". The leftist main opposition Syriza party reacted strongly saying the "closed centres" do not help the decongestion of the islands that bear the heaviest burden. Read more on EURACTIV's partner Athens-Macedonian News Agency.
Also read: African Swine Fever outbreak in Greece raises eyebrows in Brussels
---
VISEGRAD
WARSAW
Presidential race. In the latest poll by IBRiS for Polish daily Rzeczpospolita, Polish President Andrzej Duda continues to lead in the polls with 43.7% over Małgorzata Kidawa-Błońska (29.2%) just a few months away from the presidential elections, which are set to take place on 10 May 2020. Kidawa-Błońska, who is a candidate of the largest opposition party (PO), is well ahead of independent candidate and TV personality Szymon Hołownia (8.1%), progressive MEP Robert Biedroń (6.9%) and centrist conservative-leaning Władysław Kosiniak-Kamysz (4%).
However, when it comes to political party support, the ruling Law and Justice (PiS) party appear to be losing ground with 35.9%, while PO has 27.2%. The Left is third with over 15%. (Łukasz Gadzała | EURACTIV.pl)
///
PRAGUE
Coal belongs to the past. More than three-quarters of Czechs want Czechia to be a coal-free country, while over half prefer renewable sources of energy, according to a survey by Median. The Czech government has so far presented different approaches to the Czech energy mix and although discussions on a coal phase-out have already started, the government is eyeing a future in nuclear energy. (Aneta Zachová | EURACTIV.cz)
///
BRATISLAVA
Istanbul Convention session. Slovak President Zuzana Čaputová, Prime Minister Peter Pellegrini (Smer-SD) and parliament speaker, Andrej Danko (SNS), met Monday (10 February) to discuss the constitutional requirements relevant to the ratification of the Council of Europe's Convention on preventing and combating violence against women and domestic violence. EURACTIV Slovakia's Zuzana Gabrižová provides you with a rundown of the events.
///
BUDAPEST
Fukuyama: 'Hungary's politics is ironic'. In an article by historian Francis Fukuyama agrees Fukuyama writes that Hungarian and Polish voters "felt their national identity was threatened by immigration and liberal social values". He also described PM Viktor Orbán's rhetoric regarding "Hungarian national identity based on Hungarian ethnicity" coupled with the endorsement of "illiberal democracy, in which democratic majorities do not necessarily feel bound to respect universal human rights", as ironic in light of the country's break from the Soviet regime. (Željko Trkanjec | EURACTIV.hr)
---
NEWS FROM THE BALKANS

BUCHAREST

Socialists against Orban mkII Cabinet. Just days after Ludovic Orban was designated to be the country's new prime minister by President Klaus Iohannis after his government lost a no-confidence vote in parliament, the Socialist Party (PSD) attacked his designation before the Constitutional Court. On Monday (10 February), Orban presented the parliament with the same list of ministers and an updated governing plan, and MPs should decide on the calendar for voting the new government on Tuesday. (EURACTIV.ro)

///

LJUBLJANA

Foreign minister supports Turkey's EU membership. Slovenian Foreign Minister Miro Cerar has called for a strengthening of EU-Turkey relations, including in the fight against illegal migration. He supported the prospect of Turkish membership of the EU and promised all possible assistance from Slovenia to this end during the EU Council Presidency next year. (Željko Trkanjec | EURACTIV.hr)

///

BELGRADE

Dialogue and Reciprocity. Kosovo Premier Albin Kurti has said that reciprocity measures toward Serbia will be applied in accordance with a resolution passed by the Kosovo Assembly of 2 Dec 2011, while the dialogue will continue based on another resolution that will be prepared by the incumbent government and sent to the assembly for adoption, the Koha Ditore newspaper reported on 10 February. (EURACTIV.rs)

///

SARAJEVO

Leader of Croats: There is very little Russian influence here. "Russia creates a balance of power in the world and plays an important role in the Balkans but unfortunately has little influence in BiH", said Dragan Čović, the Chairman of BiH House of Peoples and the leader of HDZ BiH told Rossiyskaya Gazeta while visiting Moscow.

"Russia is constantly being accused of its politics and diplomacy having a very strong influence in BiH. I would say that, unfortunately, there is very little Russian influence here," Čović said., adding that BiH should make efforts to develop economic, cultural and other types of bilateral cooperation with the Russian Federation. EURACTIV Serbia's Željko Trkanjec has more.

///

PRIŠTINA

Settle our status on Kosovo. The association of the Kosovo Montenegrins' sent demands to Kosovo President Hashim Thaci and Prime Minister Albin Kurti seeking to regulate the formal and legal position of the Montenegrin community in Kosovo. They want to be recognised by the Constitution. "Our constitutional recognition or non-recognition will be important to international actors in assessing Kosovo's progress in respecting human rights", according to Association. (Željko Trkanjec | EURACTIV.hr)

***

[Edited by Sarantis Michalopoulos, Daniel Eck, Benjamin Fox]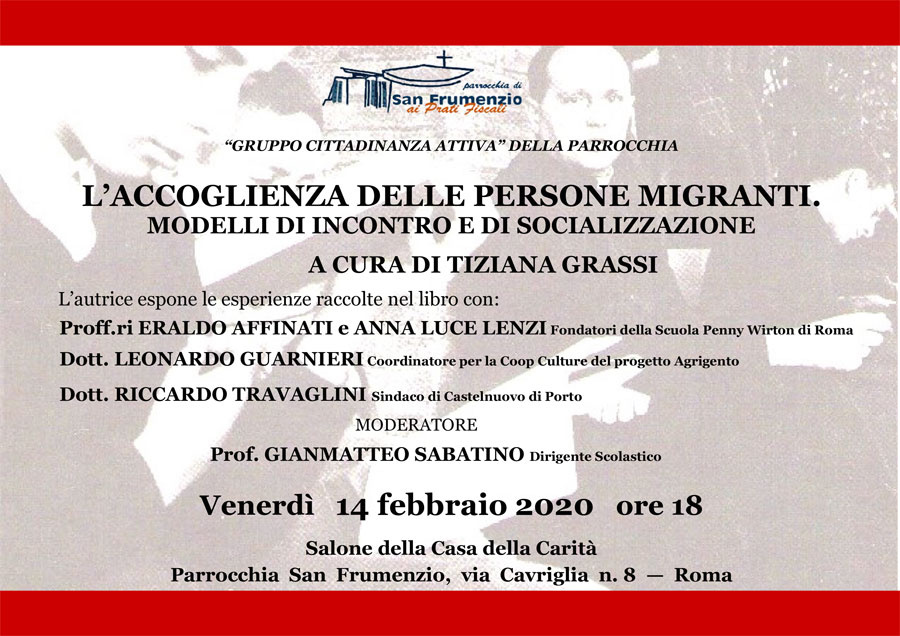 Segnaliamo alcune pubblicazioni recenti del CSF, disponibili online

Some recent publications of the CSF, available on line


Newsletter n. 101
Il 10 febbraio, alla Camera, il Premio Giustolisi.
Si svolgerà nella Sala della Regina, a Montecitorio, il 10 febbraio alle ore 15, la cerimonia per la consegna dei premi dedicati a Franco Giustolisi, il giornalista che scoprì l'armadio della vergogna", in cui erano custoditi e dimenticati gli atti giudiziaria sulle stragi naziste. Quest'anno durante la cerimonia, verrà ricordato l'eccidio di Limmari, il bosco della frazione di Pietranseri, nel comune di Roccaraso, in cui i tedeschi trucidarono 128 peronse, il 21 dicembre 1943.
La giuria presieduta da Sandra Bonsanti, dopo aver esaminato centinaia di articoli, di libri, di servizi radiotelevisivi e on line, ha deciso di premiare: Federica Iezzi, Lorenzo Cremonesi, Giulio Mola, Valerio Cataldi, Paolo Berizzi, Benedetta Tobagi, la redazione di Report, Francesca Mannocchi, Roberto Festa, Vittorio Nisticò e il giornale L'Ora.

Servizio stampa

Parlamento europeo

Anteprima della sessione del 10-13 febbraio 2020, Strasburgo
Consiglio europeo straordinario: dibattito sul bilancio pluriennale
In vista del Consiglio europeo del 20 febbraio, i deputati discuteranno con il Consiglio e la Commissione le priorità per il prossimo bilancio a lungo termine dell'UE.
......................................................................................................................................................................................................................................................
Votazione finale sull'accordo di libero scambio UE-Vietnam
Il via libera del Parlamento agli accordi di libero scambio e di investimento tra l'UE e il Vietnam sarà discusso martedì e votato mercoledì.
......................................................................................................................................................................................................................................................
Post Brexit: il PE vota la sua posizione sui negoziati UE-Regno Unito
Il Parlamento discuterà martedì e voterà mercoledì una risoluzione che definisce le richieste dei deputati per il nuovo partenariato tra UE e Regno Unito.
......................................................................................................................................................................................................................................................
Intelligenza artificiale: come garantirne un uso sicuro e imparziale
Lunedì, Il PE discuterà le sfide derivanti dall'uso dell'intelligenza artificiale e le misure che l'UE dovrebbe adottare per proteggere i consumatori. Una risoluzione sarà votata mercoledì.
......................................................................................................................................................................................................................................................
Dibattito sulla Strategia per la parità di genere 2020-2024
Mercoledì, i deputati discuteranno con la Commissione le priorità da includere nella Strategia per la parità di genere 2020-2024.
......................................................................................................................................................................................................................................................
Diritti delle donne: i deputati chiedono un impegno rinnovato
Il PE discuterà e voterà le proprie proposte per la 64° sessione della Commissione ONU sullo status delle donne (UNCSW64), che si terrà a New York a marzo.
......................................................................................................................................................................................................................................................
BCE: i deputati discutono le politiche future con Christine Lagarde
La neoeletta Presidente della BCE, Christine Lagarde, si rivolgerà per la prima volta alla Plenaria per discutere della governance economica dell'Eurozona e delle attività della BCE.
......................................................................................................................................................................................................................................................
Come combattere antisemitismo, razzismo e odio nell'UE
......................................................................................................................................................................................................................................................
Come porre fine alle mutilazioni genitali femminili nel mondo
......................................................................................................................................................................................................................................................
Stop al traffico illegale di cani e gatti
......................................................................................................................................................................................................................................................
Progetti energetici prioritari: votazione sulla proposta di lista UE
......................................................................................................................................................................................................................................................
Votazione sulla presenza di piombo nel PVC
......................................................................................................................................................................................................................................................
Rilanciare il processo di allargamento dell'UE
......................................................................................................................................................................................................................................................
Migrazione: chiarimenti sul trattamento dei rifugiati alle frontiere esterne UE
......................................................................................................................................................................................................................................................
| | |
| --- | --- |
| | (+32) 2 28 31389 (BXL) |
| | (+33) 3 881 72850 (STR) |
| | (+32) 498 98 35 91 |
| | |

| | |
| --- | --- |
| | DERNIÈRES INFOS |


[ ... ]

AEJ accuses UK government of hypocrisy over restrictive policies on media access
Tuesday, February 4, 2020
AEJ accuses UK government of hypocrisy over restrictive policies on media access
The Association of European Journalists calls on the UK government headed by prime minister Boris Johnson to end at once its restrictive and partisan media policies. On Monday British political journalists staged a collective walkout from an official briefing arranged at Downing Street, the residence of the prime minister, in protest at a decision to separate out and exclude critical media on an arbitrary basis.
Under the new policy, as explained by the prime ministers' aides, favoured journalists are routinely being granted special access to some press briefings a part of an "inner lobby" while others, including the Labour-supporting Daily Mirror and the Huffington Post, are excluded. When challenged yesterday one of Mr Johnson's aides reportedly said "we reserve the right to brief whoever we like, whenever we like'.
The prime minister's staff had invited selected political journalists to a "technical briefing" on Boris Johnson's plans for a trade deal with the EU. When other members of the Westminster "lobby" – full-time political journalists based in the Houses of Parliament – showed up as well, the group was told that only those who had been invited could go in and the rest should leave. All the journalists present then walked out together in a joint protest. They included the BBC political editor Laura Kuensberg, and the political editor of the Daily Mirror, Pippa Crerari who called the exclusion "sinister and sad".
The Society of Editors, in a letter signed by the editors of all UK national newspapers as well as leading regional and broadcast journalists, protested at the denial of access to briefings to particular journalist and called on Boris Johnson to reverse his government's practice of holding regular briefings at Downing Street instead of the traditional and more convenient location inside parliament. The editors expressed real concern that the changes would "hamper the workings of a free press".
The AEJ's Media Freedom Representative, William Horsley, said: "The UK government has laid itself open to the charge of hypocrisy by seeking to evade the robust media scrutiny of its actions by independent media that is essential in an open society, while it also claims to be acting as a champion of media freedom to the rest of the world."
Last July the UK hosted a major Global Media Freedom Conference in London; and the UK has now assumed a leading role in a 33-nation Media Freedom Coalition whose publicly stated goals are to ensure that international and UN-sanctioned standards related to media freedom are upheld by the countries making up the Coalition themselves. The 33 states have also announced their intention to apply significant pressure on other states by diplomatic and other means to encourage them to discard repressive laws and practices that stifle of arbitrarily restrict press freedom.
In the context of the Global Media Freedom Coalition the UK Foreign Secretary Raab wants to ensure that the UK imposes harsh sanctions on individuals found to be responsible for serious abuses of fundamental rights. And last week, in a speech about Britian's post-Brexit outlook, Mr Raab claimed that the UK would show itself to be "even better neighbours, allies and partners" through its membership of NATO, the OSCE and the Council of Europe. Among the Council of Europe's foremost priority is that member states should exert themselves to create a "favourable environment" for free and independnet media to hold governments to account.
In the six months since Boris Johnson's government was elected it has provoked sharp protests from the UK media as well as opposition parties for its high-handed dealings with the media. The prime minister and his aides have imposed tighter restrictions on ministers' contacts with the media and boycotted both the BBC's flagship morning radio current affairs show, the Today Programme, and Channel 4 News, both of which are known for asking searching questions to government representatives.
Mr Johnson's communications team have also sought to bypass the mainstream media altogether to deliver messages directly to the public in their own way. Mr Johnson's "address to the nation" to mark the UK's departure from the EU on 31 January was filmed and released by his own staff instead of by a national TV network. Number Ten Downing Street staff were said to be furious after the BBC and some other networks declined to air clips from the message in their live programmes marking the actual moment of Brexit last Friday night.
UK Society of Editors joint letter to the Prime Minister https://www.societyofeditors.org/wp-content/uploads/2020/01/Letter-to-the-Prime-Minister.pdf
FT coverage of the media walkout 4 Jan 2020 https://app.ft.com/content/762c45e2-427f-11ea-abea-0c7a29cd66fe?sectionid=firstft

NEWSLETTER DEL 7 FEBBRAIO 2020
Depositate proposte di proroga anche delle convenzioni con il governo per le Agenzie di stampa e della cassa integrazione per gli editori...(continua a leggere)
---
---
---
Segnaliamo inoltre:
- Convegno USPI sull'editoria digitale, "settore in fermento" e dati in crescita
- Bonus pubblicità, ecco finalmente le risorse disponibili per il 2019
- I giornali locali USPI sbarcano su Alexa

MILLENNIAL VIEWS ON WARFARE

The ICRC 'Millennials on War' research sampled more than 16,000 millennials in 16 countries - roughly half in peaceful territories, and half experiencing conflict. In a world facing new and shifting sources of conflict, it's a snapshot of their perspectives on human rights, warfare, and international law. Almost half of all millennials surveyed think it's more likely than not that there will be a third world war in their lifetime whilst 54 % of millennials believe it is likely that a nuclear attack will occur in the next decade. Encouragingly, millennials are steadfast in their belief that wars are avoidable and should have limits. 75 % of those surveyed believe that most wars could be avoided and think that there remains a need to impose limits on the ways wars are fought. Indeed, the majority of them believe digital technology can have a positive impact in supporting victims of war.

MEET THE AFRICAN TECH-SAVY GENERATION

The lives of young people in Africa has exponentially been transformed by technology, reports the Financial Times. With an average age of 19 years old, almost half of that in Europe, the continent hosts the youngest population than any other part of the world. They ultimately play a significant role in the future of Africa. Digital technology is becoming increasingly accessible within villages across the regions, with their solar panels and access to mobile-charging stations. Internet usage is also becoming the norm, despite its high price point. Particularly in cities, where 4 out of 10 Africans live, digital technology is ever more present, as is the increased usage of smartphones amongst the population. The tech-savvy generation will pave the future for Africa and likely see them becoming more digitally connected than ever.
CONTACTLESS PAYMENTS ARE THE FUTURE OF SHOPPING, SAY MILLENNIALS AND GEN Z

In an Ingenico Group survey of more than 1,350 customers and 350 merchants in the USA, 75% of Millennials and 70% of Gen Z shoppers said they were satisfied with contactless payments. 65% of Gen Z consumers even think that contactless payments are a "must-have" for merchants. The report also found that 84% of businesses accept debit or credit card EMV contactless payment options, but only 37% of consumers are aware of the option. Around a third of respondents under 35 years old predict that in the next 5 years all stores will go cashless. Going contactless within five years may sound like a stretch to some, but a report from London-based research firm RBR predicts that global payments will grow to $45.2 trillion by 2023, in part thanks to the popularity of contactless payments.

NGOs: HOW TO ENGAGE YOUNG PEOPLE

A research report by the Case Foundation found that the same old methods of engagement just won't cut it anymore. Social issues, technology and culture are changing at a speedy rate, so constant engagement of young people is key. Key insights have been analysed throughout the years, including 5 tips on engaging millennials into a cause: 1. TELLING A STORY: "People relate most to a social issue when humans are the core of the story." 2. STARTING SMALL: "Most young people's first cause-action is typically small, whether liking a social media post, signing a petition or sharing a message." 3. BEING BOLD: "Causes and companies cannot be shy about sharing their stance on important causes/social issues and what they're doing to advance progress." 4. PARTNERING UP: "Partnerships can help position an organisation as innovative and collaborative." 5. CREATING PATHWAYS: "Causes and non-profits can pick up on natural changemaker tendencies to turn every day doing good actions into bigger movements that matter to millennials."
WHAT DO YOU WANT TO BE WHEN YOU GROW UP?
A recent study of the Organisation for Economic Cooperation and Development (OECD) has found that the huge economic and social changes which have taken place in the world of work over the past two decades have made little impact on the career expectations of teenagers. According to the study, Dream Jobs: Teenagers' Career Expectations and the Future of Work, 47% of boys and 53% of the girls surveyed in the 41 member countries of the organisation expect to work in one of just 10 popular jobs by the age of 30, such as teacher, lawyer, doctor or business manager. In emerging Europe, Latvia has the highest percentage (43 %) of students who expect themselves to be employed in one of the 10 most popular professions. More than 40% of Polish students also aspire to one of the 10 most popular jobs, with more than a third of Hungarian (38%) and Czech (35%) teenagers rating one of the top 10 jobs as their leading choice. Speaking at the World Economic Forum in Davos, OECD Education Director Andreas Schleicher explained: "The survey shows that too many teenagers are ignoring or are unaware of the new types of jobs that are emerging, particularly as a result of digitalisation."
OUR 24H THINKATHON IS NOW GOING FULLY DIGITAL
'Our Digital Future - C'est ICI'
is moving into its next phase and is now going fully digital! We are very excited to officially launch the Thinkathon Online Challenge, which offers a new opportunity for youth from Canada and Europe to get involved in making our digital future more inclusive. The online challenge is open to all; for those who have not been able to participate in the on-site Thinkathons, but also to those who actually were part of the teams and would like to further develop their ideas.
During this online challenge, participants will develop a project to help build a modern and digitally inclusive society
based on one of these six topics: Citizenship 4.0; Social Relations; Smart and Fast Expanding Cities; Security; Education; Entertainment & Culture. The winners will be invited to a dedicated info session with policymakers in either Ottawa, Canada (for European participants) or Brussels, Belgium (for Canadian participants). Participants can register until March 29th.
REGISTRATION

SHAPING THE CITIES OF TOMORROW

The third event of our series of 24H Thinkathon will take place in Vancouver and Madrid on 13-14 March. Technological advancements and tools linked to smart cities including big data, the Internet of things, connected sensors, information & communication technologies and cognitive computing all have the potential to create significant benefits in the way cities function. We have the opportunity to better plan, interact, manage resources and tackle complex challenges, from governance and the environment to the quality of life and education. Participants will have the opportunity to discuss, debate and create their own policy recommendations, social media campaign and video on the topic 'Smart and Fast Expanding Cities' for 24 hours.

REGISTRATION

Millennews subscribers are more than 11 000 decision-makers, politicians, managers, officials and executives based in Europe and Asia, with a growing number from Africa and North America.
Get in touch: info@thinkyoung.eu

| | |
| --- | --- |
| | |
| | Il 7 febbraio a Roma il Presidente Sassoli ed il Premier Conte intervengono al dibattito di alto livello sui negoziati per il bilancio europeo 2021-27 |

Il convegno, organizzato dal Parlamento europeo in collaborazione con la Commissione europea e la Regione Lazio, si confronteranno rappresentanti delle istituzioni comunitarie, nazionali e locali, con esponenti delle categorie economiche e sociali e del mondo dell'educazione e della ricerca.

Il dibattito sul nuovo Quadro Finanziario Pluriennale Ue 2021-2027 entra nel vivo nelle prossime settimane a Bruxelles. L'evento di Roma vuole stimolare un confronto tra chi deve rappresentare la posizione italiana in Consiglio e Parlamento Ue e tutti gli attori interessati a questi negoziati che rappresentano un appuntamento cruciale per promuovere gli interessi di cittadini, imprese e territori.

Sulla base della proposta della Commissione europea, il Parlamento Ue ha chiesto un livello di risorse adeguate alle sfide che dobbiamo affrontare, con uno stanziamento di 1.3% del PIL comunitario.

Dal futuro bilancio Ue dipendono, infatti, gli strumenti e le politiche per promuovere occupazione, investimenti ed innovazione, per rafforzare la coesione sociale e territoriale, per rispondere alla crisi climatica ed affrontare la transizione energetica, per formare e dare opportunità ai giovani, per facilitare l'accesso al credito per le PMI, per migliorare le infrastrutture, modernizzare l'industria e l'agricoltura e potenziare cultura e turismo.

L'evento sarà aperto dal Presidente del Parlamento europeo David Sassoli e dal Presidente della Regione Lazio Nicola Zingaretti. Chiuderanno i lavori Sassoli e il Primo ministro Giuseppe Conte. Tra gli oratori anche il Vice Presidente del Parlamento europeo Fabio Massimo Castaldo e gli eurodeputati competenti per i dossier di bilancio, i ministri Roberto Gualtieri, Vincenzo Amendola, Gaetano Manfredi, Paola De Micheli e Giuseppe Provenzano, oltre ai rappresentati delle categorie economiche e sociali e del mondo dell'educazione e della ricerca.

Dove e quando:

Tempio di Adriano di Piazza di Pietra, Roma - Venerdì 7 febbraio dalle 9:00 alle 19:30

Link del programma completo:

https://europarl.europa.eu/italy/resource/static/files/Programmi/bozza_di_programma_upd2701.pdf

Per accrediti scrivere a: epitalia@ep.europa.eu entro le 17:00 di giovedì 6 febbraio.

Visto lo spazio limitato, le troupe televisive sono invitate a presentarsi al Tempio di Adriano alle ore 8:00 del 7 febbraio.

Per maggiori informazioni:

Maurizio MOLINARI

Responsabile Media del Parlamento europeo in Italia

| | |
| --- | --- |
| | (+39) 06 69950212 |
| | (+39) 339 530 0819 |
| | |

Alberto D'ARGENZIO

Addetto Stampa - ROMA

| | |
| --- | --- |
| | (+39) 06 69950206 |
| | (+39) 335 8152777 |
| | |

| | |
| --- | --- |
| | DERNIÈRES INFOS |

Servizio stampa
Parlamento europeo

Ufficio di collegamento in Italia

Agenda

Settimana 3 – 9 febbraio 2020

Riunioni delle commissioni parlamentari e dei gruppi politici - Bruxelles

Coronavirus. Durante il dibattito annuale con il direttore esecutivo del Centro europeo per la prevenzione e il controllo delle malattie, Andreas Ammon, i deputati della commissione per l'Ambiente e la sanità pubblica dovrebbero discutere dell'epidemia di Coronavirus e delle misure da adottare per proteggere salute pubblica. (Lunedì)


BCE/Lagarde. La commissione per i Problemi economici e monetari avrà un'audizione con la presidente della Banca centrale europea, Christine Lagarde, in vista della votazione sulla relazione annuale della BCE del 2019. La politica monetaria tra rallentamento economico e tensioni commerciali, criptovalute e la strategia della BCE per attuare i principi ambientali, come l'acquisto di obbligazioni verdi, potrebbero essere tra le questioni sollevate durante il dibattito. (Giovedì)


Procura europea. La responsabile della Procura europea, Laura Codruţa Kövesi, presenterà alla commissione per le Libertà civili i progressi compiuti nell'istituzione della Procura europea, che dovrebbe diventare pienamente operativa entro la fine di quest'anno. (Giovedì)


Preparazione della plenaria. I gruppi politici elaboreranno il loro contributo al mandato negoziale della Commissione sulle future relazioni con il Regno Unito e prepareranno il loro primo dibattito in plenaria con Christine Lagarde, nuova presidente della BCE. I deputati si prepareranno a votare l'accordo commerciale UE-Vietnam, la riapertura dei procedimenti contro il Primo Ministro ceco per appropriazione indebita di fondi UE e il commercio illegale di animali domestici. Tratteranno anche argomenti da discutere in Aula, come la situazione umanitaria dei rifugiati alle frontiere dell'UE, la strategia dell'UE sulla parità di genere e la lotta contro l'antisemitismo, il razzismo e l'odio in Europa.


Agenda del Presidente. Il Presidente del Parlamento europeo David Sassoli sarà in Albania lunedì e martedì. Incontrerà il Primo Ministro Edi Rama (incontro seguito da un punto stampa), il Presidente Ilir Meta, il Presidente del Parlamento Gramoz Ruci e il Sindaco di Tirana Erion Veliaj. Inoltre, terrà un discorso al parlamento albanese. Martedì a Bruxelles incontrerà il Primo Ministro italiano Giuseppe Conte. Mercoledì incontrerà il Vicariato Apostolico dell'Anatolia, Mons. Paolo Bizzeti, il Primo Ministro portoghese Antonio Costa e l'attore e attivista per l'ambiente Mark Ruffalo.

Conferenza stampa. Il servizio stampa del Parlamento terrà un briefing sulle attività della settimana alle 11 di lunedì nella sala stampa Anna Politkovskaya a Bruxelles.
Servizio stampa del Parlamento Europeo

Maurizio MOLINARI

Responsabile Media del Parlamento europeo in Italia

| | |
| --- | --- |
| | (+39) 06 69950212 |
| | (+39) 339 530 0819 |
| | |

Alberto D'ARGENZIO

Addetto Stampa - ROMA

| | |
| --- | --- |
| | (+39) 06 69950206 |
| | (+39) 335 8152777 |
| | |

Valentina PARASECOLO

Addetto Stampa - MILANO

| | |
| --- | --- |
| | (+39) 02 434417514 |
| | (+39) 393 2417646 |
| | |

Alfonso PIROMALLO

Addetto Stampa - MILANO

| | |
| --- | --- |
| | (+39) 02 434417513 |
| | (+39) 335 7872847 |
| | |

Se non si visualizza correttamente questa e-mail cliccare qui
Iniziano le primarie negli Usa, post-Brexit, coronavirus e razzismo, donne e diplomazia
È il giorno dei caucus in Iowa: con il tradizionale appuntamento tra neve e fienili nel granaio d'America inizia la lunga stagione delle primarie in vista delle presidenziali Usa 2020, tra esattamente 9 mesi. Undici i candidati che rimangono in corsa nel campo democratico per sfidare Donald Trump; quattro quelli da battere: oggi vi proponiamo i loro profili.
Tra i primi al mondo, lo Spallanzani di Roma ha annunciato ieri di aver isolato la sequenza del coronavirus, ma intanto l'epidemia ha generato episodi di razzismo e discriminazione: ce lo racconta la presidente del Silk Council. Iniziato, con l'ufficialità della Brexit alla mezzanotte di venerdì, il periodo di transizione del Regno Unito fuori dall'Unione europea: la fine di una storia; Londra ha tutto da reinventare. E mentre continua il dibattito sul piano di pace di Trump per il Medio oriente, oggi prende il via la nostra nuova rubrica dedicata a donne e diplomazia. Questo e molto altro ancora online su AffarInternazionali, la rivista dello IAI.
ARTICOLI
"BREXIT IS DONE"
Così finisce una storia
Alla fine "l'alba della nuova era", come l'ha definita il premier britannico Boris Johnson, è arrivata. Ci sono voluti tre anni e mezzo e tre primi ministri, oltre a innumerevoli ore di negoziati con l'Unione europea, ma nella notte tra...




NEWSLETTER DEL 31 GENNAIO 2020
Quanto sono importanti i dati nell'era digitale? Quanto ci aiutano realmente a comprendere il mondo dell'informazione sul web?...(continua a leggere)
---
---
---
Segnaliamo inoltre:
- Papa Francesco: "Fare della comunicazione uno strumento per costruire ponti"
- Citynews spegne le sue prime 10 candeline
- Bonus pubblicità, ulteriori chiarimenti del Dipartimento editoria
---
Servizio di Rassegna Stampa relativo al mondo dell'editoria e della comunicazione presente nell'area riservata ai Soci del sito - clicca per restare sempre aggiornato
www.uspi.it uspi@uspi.it uspi@pec.uspi.it
tel. 06.4071388 - 06.4065941 (anche fax)

Having trouble viewing this email? Click here
---
A Geopolitical European Commission in Africa

Luca Barana

«A prolonged European focus on migration could derail the political engagement that the new Commission is betting on to foster enhanced Europe–Africa cooperation. Short-termism on the migration dossier is burdening the post-Cotonou negotiations as well. To be truly strategic, the EU will have to weigh its own interests against the policy processes unfolding on the ground in Africa. Consolidating and, whenever possible, relaunching support for African integration should therefore remain a key priority»

---

There Is No Green Deal Without a Just Transition

Luca Bergamaschi

«Since the adoption of the Paris Agreement – whose preamble explicitly refers to a "just transition" – in 2015, an important debate has started on how to manage the ecological transition in a fair and orderly way. In the face of the great transformations of our times, from technology to the need to respond to climate change, it is imperative to put the issue of a just transition at centre stage when designing a "Green New Deal". This is essential to protect and offer a credible alternative to those most affected by such change»

---

A Look Ahead at US Foreign Policy

Ian O. Lesser

«The foreign policy style of the Trump administration has been at such sharp variance with previous administrations, both Republican and Democratic, that a return to a more predictable approach is virtually certain if and when President Trump leaves office. (…) However, even if a successor administration – or, in fact, a second Trump administration – in Washington wished to reset key relationships, this may prove difficult or impossible. Other powers have evolved and adjusted their policies. They may not see the value of a return to the status quo ante»

Read other IAI Papers

---

NEWS AND EVENTS

---

IAI Prize 2020

IAI launches the third edition of the IAI Prize "Young Talents for Italy, Europe and the World", dedicated to young people and awarded to the best essays on issues concerning Europe and the world.

---

7 February - Rome
Eastern Partnership at 10: the way forward?

This round table proposes to feed the ongoing reflection process in the EU institutions.

---

Climate Activism and the Fridays for Future Movement

Federica Gasbarro

«My story began in February 2019 when I decided that I would not be telling my children that I had failed to act when there was still time to save our planet. I never imagined this journey would lead me to the UN General Assembly in New York, where we young activists worked hard and made the most of the many meetings and lectures. There, I met Greta Thunberg again and we have since continued our dialogue. She asked me about the Roman Fridays For Future movement and what is being done in Italy more generally. When we parted, she reiterated her support: "don't give up" she said with a smile»

Read other IAI Commentaries

---